As was largely expected, in the first monthly report of ECB Q€ purchases in which the European central bank reported a total of €47.4 billion in purchases, the one country with the largest proportional allottment was Germany, whose €11.1 billion in bond purchases represented a 23.4% of the total monthly purchase. This is somewhat less than the mandated capital key allottment to Germany, which as a reminder, is at 26%, however the remaining balance is where the €5.7 billion in supernational purchases came in.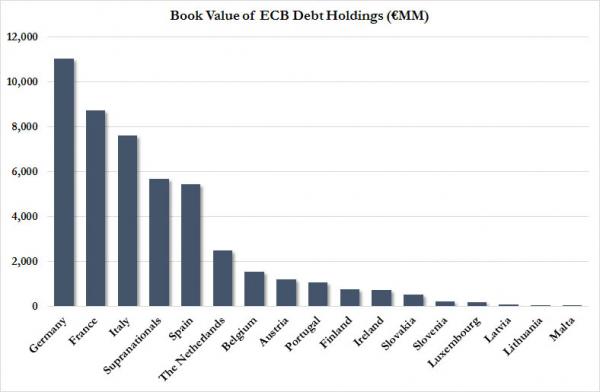 Also disclosed was the duration of purchases, with the ECB revealing the weighted average remaining maturity by purchase bucket, with Spain at the top at 11.7 years, Germany in the middle with 8.12 and Slovenia at the low end with just 6.3 years left in the average CUSIP until maturity.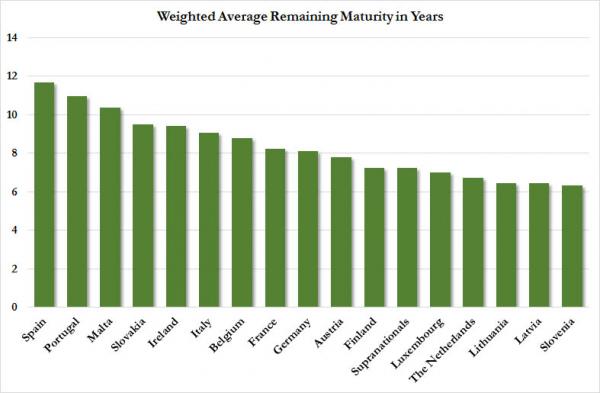 All of this is largely as expected. In fact the only surprise regarding this data came not from the ECB but from Germany's budget announcement earlier today, in which we read that "Germany's public sector posted a total budget surplus in 2014 of 6.4 billion euros ($6.95 billion), helped by strong tax revenues in a recovering economy, compared with a deficit of 7.2 billion the previous year, the Federal Statistics Office said on Tuesday."
The surplus took into account provisional quarterly results at federal, state and municipal level plus the social security system. The federal government received 2.3 billion euros more than it spent and the 16 states were 1.6 billion euros in the black. The social security system posted a surplus of 3 billion euros.
In other words, not only a balanced budget - which Germany achieved for the first time in half a century last year - but a surplus.
This is also a huge headache for Mario Draghi and his central bank peers for one simple reason: if there is a surplus, there is no need for Germany to issue debt, period. And since the ECB has no choice but to monetize about €11 billion per month in German debt, it means that German net issuance is now solidly negative, just as we warned before.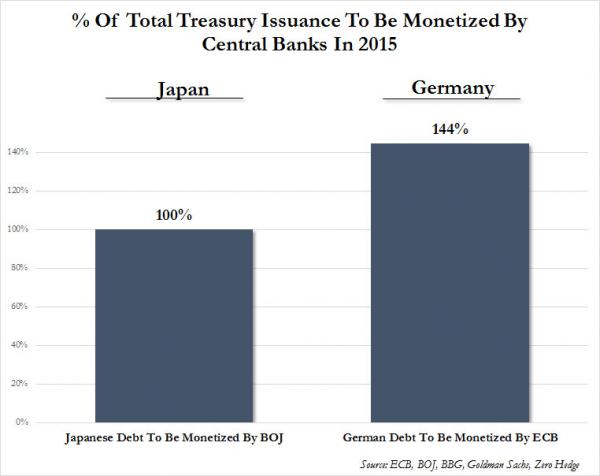 This also means that unless the ECB is willing to deal with a German bond curve that trade at -0.2% (or more negative) from end to end, it will soon have no choice but to taper its QE program, long before its scheduled expiration in the fall of 2016.
Of course, that too will be a bridge which the media will cross when it gets to it, several months from now.
For now, just enjoy today's Kocherlakota rally and BTFATH.
Oh, and Greece, which should be on the chart above but isn't because the "apolitical" ECB doesn't like its government: our condolences.