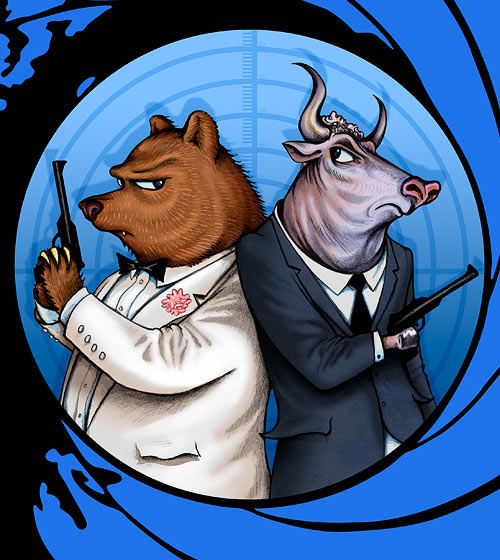 Wednesday's rally following the release of the Federal Reserve's September minutes had Wall Street cautiously optimistic after a less-than stellar Tuesday sell-off, despite the continued dogging of the financial world by worries that the current protracted bull market couldn't last long. The bear is on the horizon once again.
The current bull market is nearing its sixth birthday, if it can survive that long. U.S. markets are down 3 percent from their record peak and half of NASDAQ stocks are down 20 percent from their one-year high, something that not only signals the bull charging away but makes the NASDAQ seem like it's slathered in honey.
All this comes on the heels of the seventh anniversary of the crash that birthed the worst economic crisis since the panic of the Hoover years and the Depression that followed.
With the U.S. economy steadily recovering with an annual growth rate of 4.6 percent, the Dow Jones Industrial Average and the S&P 500 are near all-time highs, there is trepidation on the Street as to when this bubble will burst. The S&P 500's Shiller P/E is at 26, bested by 2007's pre-crash P/E of 27 by one point; if this doesn't result in low annual returns of half a percent or lower it would be the first such phenomena since 1926.
The uptick in confidence, cockiness, and risk-taking that fed the bull now appear to be threatening the markets. Borrowing is back with margin loan debt is now over 2.5 percent of GDP for the first time since 2007.
In spite of the assurance of the Fed's continuation of their dovish policies, there are already concerns one day later as to what will happen when the kid gloves finally come off and the fed becomes a new boss, same as the old boss.
Some think this nay-saying is either premature or overstated, but for many the question isn't whether a bear market will emerge, but when.  Yesterday I told you that the Fed news was cause to cheers with your dirty martini at happy hour; maybe today you should have three.