According to Statistics Canada,
42.9K jobs were added
in March after a loss of 7.0K jobs in February. This reading beat forecast of about 21.5K. The unemployment rate slid from 7.0% to 6.9%. The caveat is that the gains were mostly in part-time jobs. Still, the positive data gave the loonie a boost.
The other Canadian data today,
CAN IVEY PMI
, came in at 55.2, which was lower than the forecast around 58.3, and was lower than the 57.2 in February. It still shows recovery trend since the dip in December where it fell to 46.3, but is not going to provide any more fuel for loonie.
USD/CAD
broke below the 1.10 low on the week, and has found some support at the previous support pivot at 1.0955.
Bearish scenario:
The next support pivot would be 1.0910. The USD/CAD has shifted from a bullish market to a neutral one, and would shift to a bearish one if price falls below 1.09.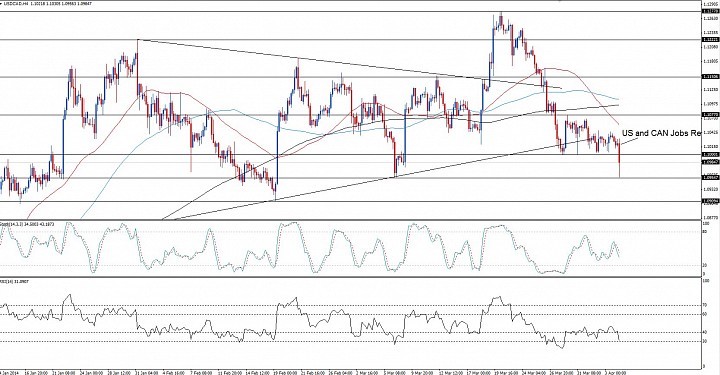 Bullish scenario:
A return above 1.1080 however shows the market is still neutral, and retains a prevailing bullish bias. However, the upside should be limited to 1.1150 in the near-term, up to 1.1222 in the short-term when considering the sideways market scenario.