Twitter (TWTR) posted earnings today after the market close. They were not bad, but analysts expected better:
"In addition to missing Q1 revenue estimates (while beating on EPS), Twitter (NYSE:TWTR) is guiding for Q2 revenue of $590M-$610M, well below a $677.6M consensus. Q2 adjusted EBITDA guidance is at $145M-$155M. Full-year adjusted EBITDA margin guidance is at 25%-27%" (Source: Seeking Alpha)
As a result, Twitter has just joined the stocks-manipulated-by-analysts club: its members include LinkedIn (LNKD) and Netflix (NFLX), among others. According to data from Google Finance, the stock is down 13% in the after-hours trading:

(Source: Google Finance)
Ouch!
But Twitter's long-term investors should wipe their tears off because I have some great news for them: you can make the losses back in the next nine days with a very simple trade. The trade involves options, and I recommend learning options before you miss a lot of opportunities from the long-term holdings you have. The trade is called the "covered straddle" because it involves selling a straddle, while owning the stock. In particular, I recommend going with May 6th options: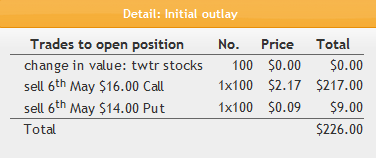 (Source: optionsprofitcalculator.com)
Note: the options prices have not been updated yet after the after-hours activity, so I had to use the new price of the stock, $15.48 per share, as the midpoint between the two strikes. As the stock opens lower tomorrow, puts will become more expensive, while calls will drop in price. On the other hand, higher implied volatility will add to the overall value of the straddle.
If you hold at least 100 shares of Twitter, you can earn at least $226 through May 6, 2016. This represents a yield of over 14.5% in just a one-week period! Well, what about the risks? Take a look at the risk-return matrix below: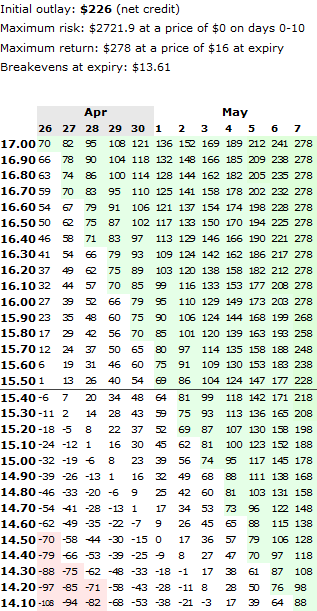 (Source: optionsprofitcalculator.com)
There are three outcomes with this trade:
(1) The stock remains within the range of the straddle (between $14 and $16 per share);
(2) The stock goes higher than $16 per share - back to its pre-earnings territory;
(3) The stock falls below $14 per share, setting new lows.
Here is what is going to happen with your position, if you do this trade:
(1) You keep the premium and recover today's loss;
(2) You keep the premium but give away the stock (in order to settle the call). This sounds bad but essentially you are not losing anything apart from the opportunity cost (which is why you get premiums in the first place). Chances are that you bought the stock at a price above $16 per share anyway, so you will simply end up at square one but with some additional cash from the straddle;
(3) You offset your losses with the premium from the straddle and decide whether you should hold on or get out of the stock once and for all. If you want to hedge your downside, consider two ways of doing so: (1) set stop losses below the break-even point (around $13.50 in our case) and/or (2) buy puts with a strike of $13 or lower (depending on how much additional loss you can handle). I think that the second choice is better because stop losses tend to fail during times of extremely high volatility or when stocks gap higher/lower.
Considering that the yield will likely widen as the stock opens lower tomorrow, I think this is one of the best strategies right now to implement if you want to hold on to Twitter's shares for a while longer.

It is also very important to remember that with this trade you are essentially doubling your downside risk (losing both on the stock and owing money to the puts' holders). Therefore, I will recommend buying some out-of-money puts sometime during this week and/or set some hard stop losses.