The Fed goes 6 for 6 today as Bullard, Yellen,Lacker, Evans, Dudley, and Fischer (respectively) all manage to jawbone a looming rate hike without any confirmation of the "well everything must be awesome" meme to satisfy increasingly doubtful stock market worshippers...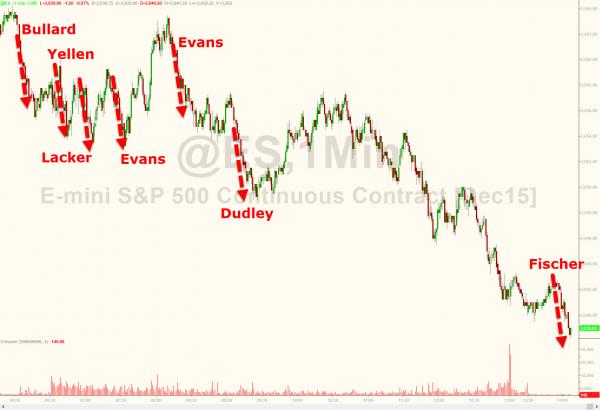 Summarized...
*BULLARD: NO REASON TO CONTINUE EXPERIMENT WITH `EXTREME' POLICY
*BULLARD WANTS TO RETURN TO 1984-2007 U.S. MACROECONOMIC SETTING
*YELLEN: MUST BE MINDFUL OF NEW POLICY TRANSMISSION CHANNELS
*YELLEN DOESN'T DISCUSS OUTLOOK FOR FED POLICY, ECONOMY IN TEXT
*LACKER SAYS NOT SURPRISED BY `POPULIST ANGER' AGAINST FED
*LACKER SAYS `PLAUSIBLE' QE HAD SCANT REAL EFFECTS ON ECONOMY
*EVANS SAYS U.S. FUNDAMENTALS LOOK `PRETTY GOOD' AT THE MOMENT
*EVANS: TIMING OF FED LIFTOFF LESS IMPORTANT THAN RATE PATH
*EVANS FAVORS `SOMEWHAT LATER LIFTOFF' THAN MANY FED COLLEAGUES
*EVANS SEEKS SLOWER RATE-RISE PATH THAN 25 BPS EVERY OTHER MTG
*DUDLEY: IT'S POSSIBLE LIFTOFF CONDITIONS MAY SOON BE SATISFIED
*DUDLEY: RISKS OF MOVING TOO FAST VS TOO SLOWLY NEARLY BALANCED
*FISCHER: U.S. ECONOMY WEATHERING HEADWINDS FROM STRONGER DOLLAR
*FISCHER: OCT. FOMC SIGNALED DEC. RATE RISE MAY BE APPROPRIATE
By the close, December rate hike odds had actually dropped very modestly to 66.0%. If these guys can't 'communicate' with one another, then how are investors (and algorithms) supposed to understand what they are doing?