Fifteen of the biggest players in the $14 trillion market for credit insurance are also the referees.
Firms such as JPMorgan Chase & Co. and Goldman Sachs Group Inc. wrote the rules, are the dominant buyers and sellers and, ultimately, help decide winners and losers.
Has a country such as Argentina paid what it owes? Has a company like Caesars Entertainment Corp. kept up with its bills? When the question comes up, the 15 firms meet on a conference call to decide whether a default has triggered a payout of the bond insurance, called a credit-default swap. Investors use CDS to protect themselves from missed debt payments or profit from them.
Once the 15 firms decide that a default has taken place, they effectively determine how much money will change hands.
And now, seven years after the financial crisis first brought CDS to widespread attention, pressure is growing inside and outside what's called the determinations committee to tackle conflicts of interest, according to interviews with three dozen people with direct knowledge of the panel's functioning who asked that their names not be used. Scandals that exposed how bank traders rigged key interest rates and fixed currency values have given ammunition to those who say CDS may also be susceptible to collusion or, worse, outright manipulation.
The trade group that oversees the process, the International Swaps & Derivatives Association, is now proposing rule changes that it says will reform the determinations committee. The proposals include limiting the people who can be involved in decision-making and prohibiting panel members from discussing decisions outside meetings, according to a document obtained by Bloomberg News.
For skeptics, the question is whether the changes would go far enough. Because only the biggest CDS traders are seated on the panel, conflicts are not only tolerated but unavoidable.
"You've got a self-regulatory body that has handed the authority over an entire market to those folks who have the greatest self-interest and have no prohibition for putting their interests ahead of the broader market," said Joshua Rosner, managing director of the financial research firm Graham Fisher & Co., who wrote a report on the shortcomings of the determinations committee earlier this year.
Conflicts Mitigated
ISDA says its system is transparent. "Regulators have full transparency on the trades and positions held by all market participants," according to ISDA spokesman Nick Sawyer. On its website, ISDA says conflicts are mitigated by having both buyers and sellers on the panel.
"I think we have a robust and transparent process," said Scott O'Malia, ISDA's chief executive officer. "But like all robust processes, there needs to be continual analysis, feedback and improvement. We will continue to review policies and procedures as market practices adapt."
Rarely, if ever, does the wider world learn how or why the committee's decisions are made. Though final tallies and how each firm voted are posted online, discussions among panel members are not.
None of the 15 committee members, nor the firms they represent, would comment for this story. An executive at one of the firms said, without being specific, that there were potentially severe repercussions for discussing the panel's internal matters.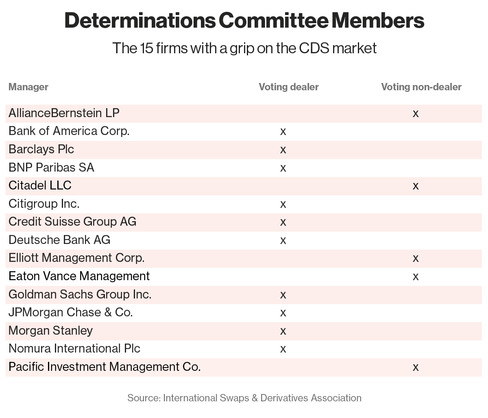 CDS on corporate and sovereign debt, which are subject to the panel's decision-making, have bubbled into prominence lately. The plummeting price of oil and other commodities has caused some corporations and governments to struggle to keep current with creditors. For...
More