Summary
1) Weak 3Q and 9 months results, due to currency affect
2) Very attractive to long term conservative investor
3) We expect JNJ  to trade at 115$ in 12 moths
Johnson & Johnson is a solid and stable growth blue chip. As a conglomerate it includes three main business such as medical devices(36% of sales), pharmaceuticals(45% of sales) and consumer healthcare(19% of sales). The main products are orthopedic, surgical and vision devices and products; pharmaceuticals in immunology, infection, oncology and neuroscience areas;skin care, baby care, oral care and other Over-the-Counter goods. We see all these departments as perspective, but pharmaceuticals should be highlighted as the main revenue generating business, and as we estimate has the biggest potential to extensive and intensive growth.
Company has secure and well diversified business model. Half of its sales is international, where 46% are from Europe, 36% from Asia-Pacific and Africa, 18% from Western Hemisphere excluding U.S. . But as its peers it suffers a slowing world GDP and USD strong performance. Operational sales increase in nine months ended 30 September 2015 is 0.8% in USA, 1.1% in international sales, but negative impact of currency is 14.6%, so total decrease in sales is 6.8%.
Management continue to maintain high level of R&D investments, new products are creating every year. Company is very active with acquisitions deals to enlarge synergy and extend area of developing goods.
Johnson & Johnson is under the pressure of macro factors. We believe this situation to continue for a several quarters, where are no possibilities to show growth and reach its highs of 2014 in a short time. During 2015 year JNJ is trading about 100$ per share and we see it as equilibrium. There was huge downside movement to 90.73$, and that was a real bargain, but we do not expect that to repeat because of slowdown in the sales declining.
JNJ is still attractive for a long time horizon investors, it has all potential and facilities to adapt to today economic situation and return to its previous growth rates.
Forward P/E ratio(end of 2015) is about 16, when its average P/E is above 18, so it is near 5 years minimum. JNJ has a long and stable growing dividend history, and today dividend yield is about 3% which is higher than CPI.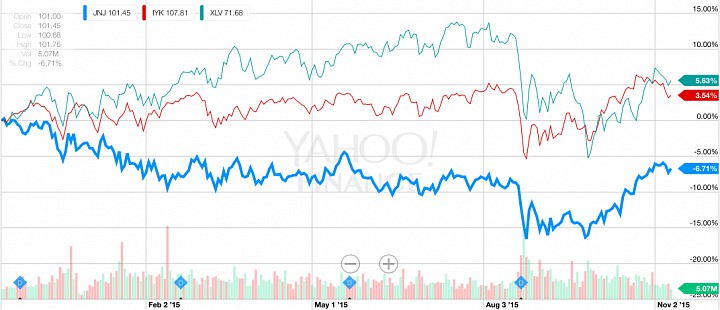 As we can see from the chart JNJ is underperforming IYK (Consumer Goods ETF) and XLV(Health Care ETF) and this is the largest divergence for past 10 years. We expect JNJ to return to average industry levels to the end of 3Q16 and that should be about 110-115$.
Johnson & Johnson has been great company for decades. With its strong and diversified business model company shown its ability to generate cash flows, pay high and stable growth dividend. It had 10.8% average return for the past 20 years and we believe this trend to continue.