Holding on to stocks with solid growth potential is a prudent move on the part of investors looking for solid returns. One such stock is the sporting goods retailer, Big 5 Sporting Goods Inc. BGFV, which is doing well on the back of its solid surprise trend, robust outlook, impressive stock performance, store penetration strategies, impressive growth plans and financial strength. The stock also has a long-term earnings growth rate of 9% and a VGM Style Score of "A". So, let's try to get a better understanding of how these traits are working in favor of this Zacks Rank #1 (Strong Buy) company.

Stock Movement

This El Segundo, CA-based retailer has outperformed both the broader industry and sector in the past one year. Evidently, shares of Big 5 Sporting advanced 40% in the past one year, compared with the Zacks categorized Retail – Miscellaneous industry's decline of 8.5% and the Zacks categorized Retail and Wholesale sector's 14.9% upside. This is mainly attributable to its robust show even amid a tough retail landscape. This, in itself, speaks volumes about the company's ongoing prospects.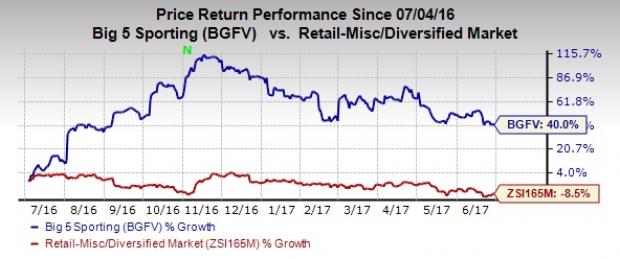 Robust Earnings History & Outlook

Big 5 Sporting's solid earnings trend is evident from its fourth straight earnings beat in first-quarter 2017. The company had a solid start to 2017 as both sales and earnings topped estimates and improved year over year. Results gained from significant competitive rationalization in the markets where the company operates due to the recent liquidation of rivals Sports Authority and Sport Chalet. Further, this aided comparable store sales (comps) and merchandise margins in the quarter.
Big 5 Sporting Goods Corporation Price, Consensus and EPS Surprise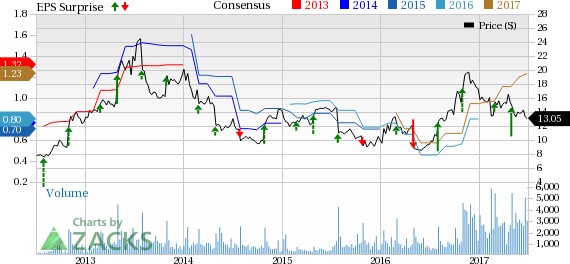 Big 5 Sporting Goods Corporation Price, Consensus and EPS Surprise | Big 5 Sporting Goods Corporation Quote
Going forward, management remains impressed with the favorable results in the second quarter and believes it is well positioned for the summer selling season on the back of efforts to capitalize on the rationalization in the sporting goods industry. For second-quarter 2017, the company anticipates comps to increase in the mid-single digit range. Additionally, it envisions earnings in the range of 14–20 cents per share compared with earnings of 10 cents in the prior-year quarter.

Store Penetration and Merchandising Strategies

The company leverages an extensive network of stores to effectively penetrate into its target markets, directed toward generating healthy sales and capturing market share. The company has been focused on expanding store base and introducing technological advancements to enhance services for its patrons. As part of this strategy, Big 5 Sporting expects to open eight new stores in 2017.

Moreover, Big 5 Sporting's unique strategy of offering exclusive branded merchandise sourced from leading manufacturers provides it with a competitive edge over rivals in a cut-throat specialty retailing industry. The company leverages its strong vendor relationships to source overstock and closeout merchandise at substantial discounts. This helps it achieve the dual objectives of boosting gross margin while offering compelling value to customers. We believe these strategies position it well for future growth.

Financial Strength

Further, the company's strong balance sheet offers it the financial flexibility to drive future growth. The company also remains committed toward enhancing shareholder returns, as evident from its regular practice of returning value to stockholders in the form of dividends and share buybacks.

Bottom Line

While all is well with this sporting goods retailer, its dependence on weather conditions and the intense competition in the space remain concerns. However, we believe that Big 5 Sporting's growth drivers far outweigh the obstacles and will help the company sustain its impressive momentum.

Investors interested in the space can also count on Five Below Inc. FIVE, Kingfisher PLC KGFHY and Office Depot Inc. ODP, each carrying a Zacks Rank #2 (Buy). You can see the complete list of today's Zacks #1 Rank (Strong Buy) stocks here.

Five Below, with long-term EPS growth rate of 28.5%, has increased 13.4% in the last three months.

Kingfisher has a long-term EPS growth rate of 10%. Further, the company's estimates for the current fiscal have witnessed an uptrend in the last 60 days.

Office Depot, with long-term EPS growth rate of 10.9%, has grown 20.9% in the last three months.

5 Trades Could Profit ""Big-League"" from Trump Policies

If the stocks above spark your interest, wait until you look into companies primed to make substantial gains from Washington's changing course.

Today Zacks reveals 5 tickers that could benefit from new trends like streamlined drug approvals, tariffs, lower taxes, higher interest rates, and spending surges in defense and infrastructure. See these buy recommendations now >>
Want the latest recommendations from Zacks Investment Research? Today, you can download 7 Best Stocks for the Next 30 Days.
Click to get this free report
Office Depot, Inc. (ODP): Free Stock Analysis Report
Big 5 Sporting Goods Corporation (BGFV): Free Stock Analysis Report
Five Below, Inc. (FIVE): Free Stock Analysis Report
Kingfisher PLC (KGFHY): Free Stock Analysis Report
To read this article on Zacks.com click here.