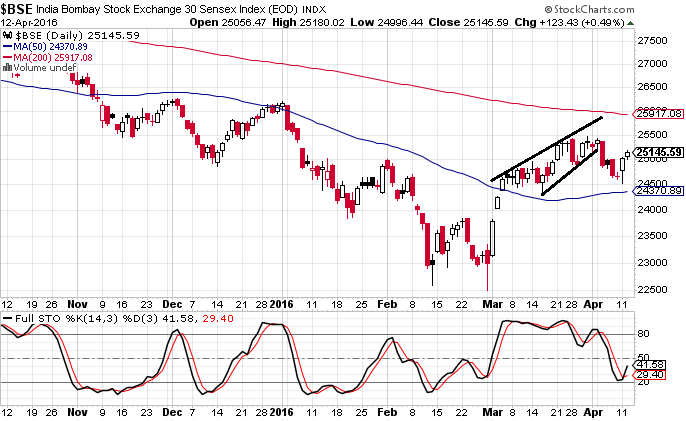 On Wednesday, April 13, Indian benchmarks showed positive performance, reaching a three-month high on the back of released macro data. Markets garnered support from high oil prices and upbeat macro data out of China.
Indian CPI declined 4.83% y-o-y in March compared to a 5.26% drop a month earlier. Analysts had expected inflation to total 5%. In addition, Indian industrial output rose 2% y-o-y in February 2016. Experts had expected the reading to climb only 0.8%. To remind, industrial output contracted 1.5% in January, down for the third consecutive month.
On Thursday and Friday, the Indian market will be closed in observance of public holidays.
The Nifty 50 added 1.84% to 7,850.45, while the BSE Sensex 30 jumped 1.91% to 25,626.75.
On the Nifty 50, Zee Entertaiment and Infosys underperformed the broader market, easing over 0.5% each. Mahindra&Mahindra, ICICI Bank, and Maruti Suzuki led the gainers, each soaring over 4.5%.
On the BSE Sensex 30, Infosys was out of luck, while Mahindra&Mahindra, ICICI Bank and Bajaj Auto outperformed the broader market.
On the currency market, USD/INR rose 0.49% to 66.646, while EUR/INR retreated 0.15% to 75.367. The 10-year bond yield reached 7.419%.
Carmaker Mahindra&Mahindra spiked 7.46% to a high since December 2015.
The banking sector topped the advancers, with State Bank and ICICI Bank picking up 2.18% and 5.20%, respectively.
The largest Indian mobile carrier by the subscription base Bharti Airtel edged up 0.33%, touching a high since October 21.
India's third-largest software export Wipro increased 2.70% on news of a share buyback
From a technical standpoint, the BSE Sensex 30 continued to move upward toward 25,500. Stochastic lines are still pointing north, which means more upside is likely.