Immune Design Corp. IMDZ incurred second-quarter 2017 loss of 54 cents per share, narrower than the Zacks Consensus Estimate of a loss of 65 cents and also a year-ago loss of 71 cents.
Immune Design's share price has increased 100% year to date, compared with the Zacks classified industry's gain of 1.7%.

Quarter in Detail
Immune Design's total revenue for the second quarter was $0.7 million, down from $1.1 million in the year ago quarter. The revenue was primarily due to $0.7 million collaboration revenue received from partner Sanofi SNY for G103 (HSV2 therapeutic vaccine). Quarterly revenues were below the Zacks Consensus Estimate of $2 million.
Research and development (R&D) expenses were down 4.6% to $10.9 million in the quarter. The decrease was due to the timing differences of manufacturing activities, which were offset by increased clinical costs attributable to continued advancement of Immune Design's phase I and phase II studies, and an increase in personnel-related expenses that are needed to support the company's pipeline.
General and administrative expenses also decreased 1.5% to $3.9 million.
Pipeline Update
Immune Design is developing multiple candidates using its two discovery platforms – ZVex and GLAAS – in the field of immuno-oncology. Its key pipeline candidates include CMB305 and G100.
Presently, CMB305 is being evaluated in soft tissue sarcoma (STS) patients both as monotherapy and in combination with an anti-PD-L1 antibody. The company presented CMB305 monotherapy data pat ASCO from 25 STS patients with recurrent disease. The data showed that observed median overall survival (mOS) has not yet been reached in these patients, with an overall survival rate at 12 and 18 months of 83% and 76%, respectively.
In Sep 2017,, the company will present early data from the phase II study comparing CMB305 plus Roche Holding AG's RHHBY Tecentriq with Tecentriq alone.
Furthermore, G100, which is developed on the GLAAS platform, is being evaluated in an ongoing phase I dose escalation and in a randomized phase II study in patients with low grade follicular non-Hodgkin lymphoma (NHL). The data from the phase I dose escalation monotherapy study presented at ASCO demonstrated-100% disease control rate (DCR), with over a third of patients achieving a partial response (PR) using WHO criteria (at least a 50% tumor reduction), with PRs at all three dose levels tested. 50% of evaluable patients experienced shrinkage of untreated distal (abscopal) lesions in association with presence of T cell infiltrates.
Notably, Immune Design completed patient enrolment in the phase II study comparing G100 and low dose radiation (XRT) versus G100 and XRT with the systemic administration of Merck & Co., Inc.'s MRK anti-PD-1 agent, Keytruda. The company intends to submit data from all 24 patients in the randomized phase II study comparing G100 and XRT versus G100 and XRT with pembrolizumab in Dec 2017. Furthermore, it also plans to submit follow-up data from all patients treated with G100 monotherapy in the phase I dose escalation portion of this study.
2017 Outlook
Immune Design continues to anticipate cash to fund operations into the second half of 2018.

Immune Design Corp. Price, Consensus and EPS Surprise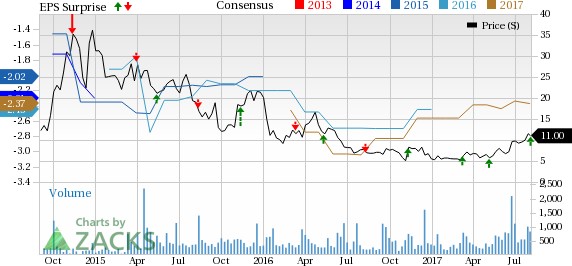 Immune Design Corp. Price, Consensus and EPS Surprise | Immune Design Corp. Quote
Zacks Rank
Immune Design currently holds a Zacks Rank #2 (Buy). You can see the complete list of today's Zacks #1 Rank (Strong Buy) stocks here.
More Stock News: Tech Opportunity Worth $386 Billion in 2017 From driverless cars to artificial intelligence, we've seen an unsurpassed growth of high-tech products in recent months. Yesterday's science-fiction is becoming today's reality. Despite all the innovation, there is a single component no tech company can survive without. Demand for this critical device will reach $387 billion this year alone, and it's likely to grow even faster in the future.
Zacks has released a brand-new Special Report to help you take advantage of this exciting investment opportunity. Most importantly, it reveals 4 stocks with massive profit potential. See these stocks now>>
Want the latest recommendations from Zacks Investment Research? Today, you can download 7 Best Stocks for the Next 30 Days.
Click to get this free report
Roche Holding AG (RHHBY): Free Stock Analysis Report
Sanofi (SNY): Free Stock Analysis Report
Merck & Company, Inc. (MRK): Free Stock Analysis Report
Immune Design Corp. (IMDZ): Free Stock Analysis Report
To read this article on Zacks.com click here.
Zacks Investment Research