It's fact-checking time once again. Having questioned the credibility of Dallas Fed's Richard Fisher previously, we thought this morning's comments by St.Louis Fed's Jim Bullard were worth investigating:
*DOLLAR EFFECTS ARE MARGINAL ON U.S. ECONOMY, SHOULDN'T INHIBIT GROWTH, FED'S BULLARD SAYS
Which just seems odd given the rest of the world's competitive devaluation efforts to 'improve' their economies. What we found will not surprise... but do not show this chart to Bullard.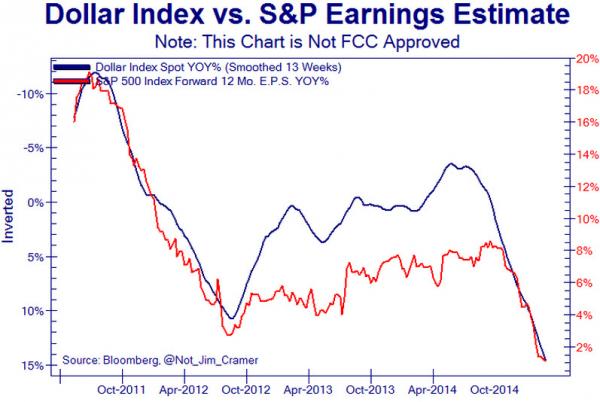 h/t @Not_Jim_Cramer
It appears that in fact a stronger dollar is in fact disastrous for US company earnings (and one would thought implicitly the US economy)... but then again we don't have PhDs in economics.