Two days ago we reported that someone had made an "unprecedented" bet on a spike in bond volatility, buying a $10 million strangle (OTM puts and calls) at 2.38%, and expiring on July 21, which according to Bloomberg calculations would be in the money once the 10Y yield moved by 10 bps either higher or lower.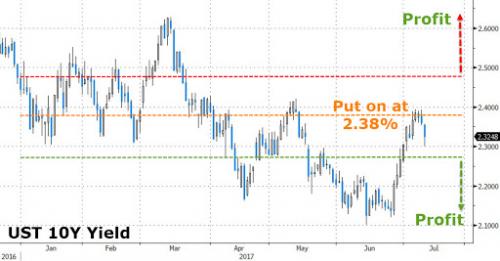 Well, as of this morning when the TYU7 contract briefly rallied to 126-01 on the latest batch of bad data, the unknown trader, dubbed the "strangler" was briefly in the money when the trade structure topped the 126 call strike.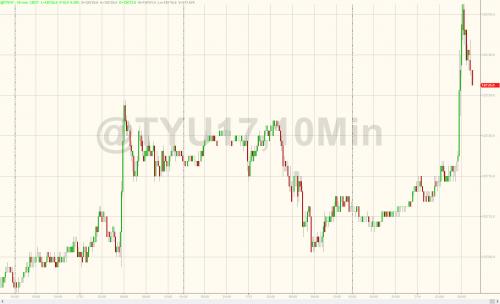 it is unclear if he took profits, although as Bloomberg's Edward Bolingbroke noted this morning, "Price action has potential to be sticky around 126 because of options exposure (a similar situation occurred in December)."
And while we, and others, look forward to the fate of the "strangler's" bank account, another more interesting development in the Treasury market was spotted two days ago by Bank of America.
Recall that earlier this week, we reported that following the recent dramatic moves in Treasurys and commodities, the average CTA had suffered a 5 sigma drawdown, the biggest going back all the way to 2000, with only the 2007 quant crash resulting in a great shock to the quant community.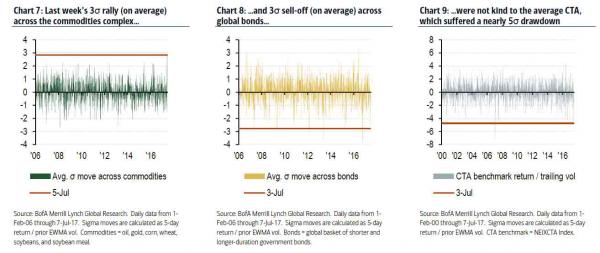 Well, as it turns out, after the recent violent reversal in yields following the ongoing hawkish rhetoric by central bankers, CTA - who are mostly momentum-chasers, and who had formerly been record long Treasurys - turned bearish. This is BofA's Shyam Rajan wrote on Wednesday:
With the sharp rise in global bond yields over the last two weeks, attention has moved to momentum traders, particularly the CTA community. With a sharp reversal in global bond yields (UK, Bunds +30bp and USTs +20bp), a significant amount of attention has been dedicated on the CTA community, typically momentum driven traders across asset classes. From a macro perspective, it is safe to make the two following conclusions

Gilts and the June swoon - The last week of June was a critical flip for the CTA community, particularly with the Gilt move. After all, gilts had the strongest trend YTD in global bonds, with yields never breaching Jan highs (unlike Bunds or USTs). This likely made long gilts a significant CTA bond position heading into June. The timing of the sell-off was critical given the breach of 1.25% flipped the YoY change (from pre-Brexit, June 2016) in 10y gilt yields to positive and led to the short term 1m moving average crossing over longer-term MAs (Chart 1). This likely leads to liquidation of long duration positions and a scaling up of shorts.
Currently short, albeit smaller - Using a simple strategy that establishes trends using yield changes over 1m, 3m and 12m indicates that most CTAs are now likely to have flipped to a short duration position (Table 1). At the same time, given a pickup in bond volatility, positions are not likely to be as large yet on the short side.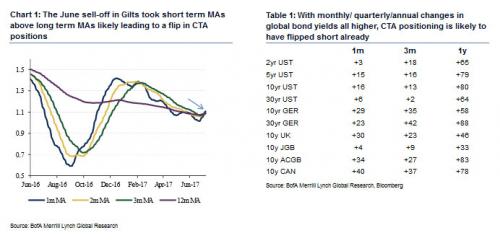 Bofa's summary: "the CTA community that was likely record long has now flipped to short positions, albeit smaller, across global duration."
The bank also suggested a way ahead: "The above combination of a CTA community that has already flipped and reduced its duration exposure plus a real money buyer base that seems hesitant during a yield back-up leaves us looking at a transition in the bond sell-off - from the sharp, high vol sell-off to a slow grind move higher in yields in the coming weeks."
Unless of course instead of a "slow grind higher in yields" we have another rip to the downside, which is precisely what has happened. Then again, BofA had no way of knowing this: the above was written on Wedensday morning before Yellen's unexpectedly dovish Senate testimony sent yields tumbling, and which dropped more this morning following the poor CPI and retail sales data, which as we noted moments ago, already prompted Goldman to slash it expectations for another rate hike in 2017 to just above a coin toss. As to whether this means CTA were caught in another multi-sigma whiplash as a result of the sharp reversal in yields, we will update readers after the close when the SocGen CTA index does its once-daily update.