Microsoft Corp. MSFT recently announced the launch of Microsoft Research AI lab. It will focus on obstacles faced in the field of artificial intelligence (AI). Based at Microsoft's headquarters in Redmond, WA, the research lab will involve more than 100 scientists related to various subfields including natural language processing, machine learning, visual perception and decision making, among others.

Notably, the AI technologies used today are dedicated to specific tasks. Microsoft's idea is to combine these and form a single AI technology that will have a cognitive approach. Microsoft is also working on an Ethical Design Guide for AI development based on CEO Satya Nadella's principles.

Microsoft also stated that it will be working with Apple's AAPL new application called Seeing AI meant for assisting blind people. Moreover, with the AI for Earth program, the company is using artificial intelligence to help organizations address environmental challenges related to water, agriculture, biodiversity and climate change. The company also committed $2 million for this initiative.

We believe Microsoft is going to benefit from its product and service portfolio that consists of AI, Azure and its cost restructuring methods such as proper resource allocation techniques. Notably, the company has outperformed the S&P 500 on a year-to-date basis. While the index gained 10.8%, the stock gained 16.8% during the same time period.


Can Microsoft Take Advantage of the AI Boom?

Per MarketsandMarkets, the AI market is anticipated to witness 69.2% compound annual growth rate (CAGR) from 2016 to 2022 and be worth $16.06 billion, at the end of 2022. However, lack of appropriate technical knowledge and relatively lesser awareness may impede its growth trajectory.

Microsoft was projected as an AI market leader for 2017 in a recent Value Walk article. We believe that with its range of cognitive services and data and analytics platform, Microsoft is well positioned to enjoy the growth prospects in the space. We note that the company acquired Maluuba, an AI startup in Jan 2017, thereby enriching its product portfolio.
Microsoft Corporation Revenue (TTM)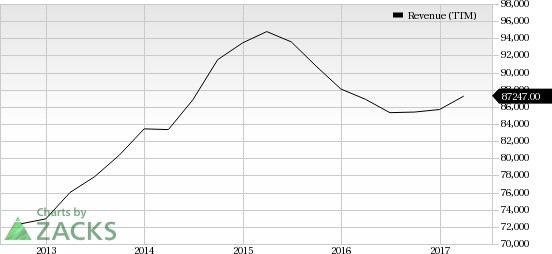 Microsoft Corporation Revenue (TTM) | Microsoft Corporation Quote
Going forward, Microsoft's wide range of AI offerings is expected to add to its customer base, thereby boosting its top line and providing it with a competitive edge against peers like Amazon AMZN and Alphabet GOOGL.
Zacks Rank

Currently, Microsoft holds a Zacks Rank #2 (Buy).

You can see the complete list of today's Zacks #1 Rank (Strong Buy) stocks here.
More Stock News: This Is Bigger than the iPhone!

It could become the mother of all technological revolutions. Apple sold a mere 1 billion iPhones in 10 years but a new breakthrough is expected to generate more than 27 billion devices in just 3 years, creating a $1.7 trillion market.

Zacks has just released a Special Report that spotlights this fast-emerging phenomenon and 6 tickers for taking advantage of it. If you don't buy now, you may kick yourself in 2020.

Click here for the 6 trades >>
Want the latest recommendations from Zacks Investment Research? Today, you can download 7 Best Stocks for the Next 30 Days.
Click to get this free report
Amazon.com, Inc. (AMZN): Free Stock Analysis Report
Alphabet Inc. (GOOGL): Free Stock Analysis Report
Apple Inc. (AAPL): Free Stock Analysis Report
Microsoft Corporation (MSFT): Free Stock Analysis Report
To read this article on Zacks.com click here.
Zacks Investment Research