Flex Ltd. FLEX reported fiscal second-quarter 2018 non-GAAP earnings of 27 cents per share, which beat the Zacks Consensus Estimate of 25 cents but declined 3.6% from the year-ago quarter.
Revenues increased 4.4% from the year-ago quarter to $6.27 billion and beat the Zacks Consensus Estimate of $6.1 billion. The impressive results can be attributed to the company's focus on Industrial & Emerging Industries (IEI) and High Reliability Solutions (HRS) segments which improved diversification.
Shares of Flex have gained 20.7% year to date, significantly outperforming the 15.3% rally of the industry it belongs to.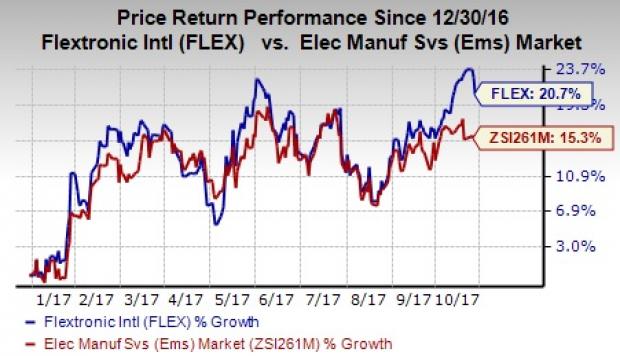 Quarter Details
Communications & Enterprise Compute (CEC) revenues declined 10% from the year-ago quarter to $1.9 billion. This segment generated $43 million in adjusted operating profit and recorded 2.2% adjusted operating margin. Lower profitability was due to 10% lower revenue levels. Growth in cloud data center business was overshadowed by a decline in legacy businesses.
However, management noted the CEC segment to be a strong contributor to free cash flow. The segment also provides support to the company to venture into new markets such as digital health and autonomous vehicles.
Consumer Technologies Group (CTG) revenues improved 5% from the year-ago quarter to $1.8 billion. This division produced $31 million in adjusted operating profit, resulting in an adjusted operating margin of 1.8%, missing the guided range of 2% to 4%. In spite of incurring operating losses due to its strategic partnership with Nike, the segment saw a sequential 60 basis points (bps) improvement in margins driven by higher revenues and benefits from end-of-life programs.
Management noted that apart from increased operating expenses due to the Nike partnership, the company's launch of several big programs this quarter resulted in higher startup costs, which hurt its bottom line. Moreover, continuing investments in designing and innovation related to the "Sketch-to-Scale" portfolio transition kept margins under pressure.
However, management is hopeful that once the integration is completed and challenges of the partnership addressed, profits will increase.
Revenues from the IEI segment were $1.5 billion, up a robust 17% year over year. This division reported $51 million in adjusted operating profit and 3.5% adjusted operating margin. Although various new customer programs in the home and lifestyle and energy businesses drove results, initial startup costs weighed on margins.
HRS revenues rose 16% from the year-ago quarter to $1.2 billion. The segment reported $92 million in adjusted operating profit, resulting in adjusted operating margin of 8%.
Flex reported non-GAAP operating income of $188.3 million compared with $196.9 million in the prior-year quarter. The company's non-GAAP operating margin was 3% in the quarter compared with 3.3% in the prior-year quarter.
The company's investment deconsolidation in Elementum resulted in a gain of $144 million in the quarter.
Selling, general & administrative (SG&A) expenses increased 12.4% from the prior-year quarter to $274 million, reflecting higher design and engineering costs. Management stated expansion in innovation and design centers and cost incurred for investments and acquisitions as the major reasons for an increase in expenses.
Other Financial Details
In the quarter ended Sep 30, 2017, cash & cash equivalents were $1.37 billion, while total debt was $3.00 billion.
Flex generated net cash from operations of $280.8 million and free cash flow of $34 million.
The company bought back 4.4 million shares worth $71 million in the second quarter.
Guidance
For third-quarter fiscal 2018, total revenue is expected to be in the range of $6.3–$6.7 billion.
Adjusted operating income is anticipated in the range of $205–$235 million. Management expects adjusted earnings in the range of 28–32 cents per share.
Management expects IEI and HRS segments to continue with the robust double-digit growth in the December quarter. Moreover, CTG division is also anticipated to benefit from new product and client wins.
However, decline in the "traditional businesses" is expected to remain an overhang on the CEC segment.
Zacks Rank & Stocks to Consider
Flex carries a Zacks Rank #3 (Hold). You can see the complete list of today's Zacks #1 Rank (Strong Buy) stocks here.
Better-ranked stocks in the broader technology sector includeActivision Blizzard Inc. ATVI, Micron Technology Inc. MU andIPG Photonics Corporation IPGP, all sporting a Zacks Rank #1.
Long-term earnings growth rate for Activision, Micron and IPG Photonics is projected to be 13.6%, 10% and 19.7%, respectively.
Wall Street's Next Amazon
Zacks EVP Kevin Matras believes this familiar stock has only just begun its climb to become one of the greatest investments of all time. It's a once-in-a-generation opportunity to invest in pure genius.
Want the latest recommendations from Zacks Investment Research? Today, you can download 7 Best Stocks for the Next 30 Days.
Click to get this free report
IPG Photonics Corporation (IPGP): Free Stock Analysis Report
Activision Blizzard, Inc (ATVI): Free Stock Analysis Report
Micron Technology, Inc. (MU): Free Stock Analysis Report
Flextronics International Ltd. (FLEX): Free Stock Analysis Report
To read this article on Zacks.com click here.
Zacks Investment Research