US Consumer Confidence Cheered, UK Stock Market Struggles
SPY rebounded with 0.06% gains
The SPDR S&P 500 ETF (SPY) and the Direxion Daily S&P 500 Bull 2X ETF (SPUU) rose by 0.06% and 0.07%, respectively, on September 29, 2015. The market had a mixed reaction with five of the nine component sectors of the S&P 500 Index gaining on Tuesday.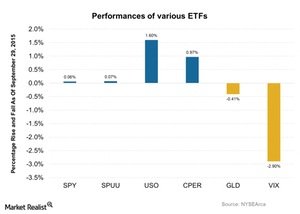 US Consumer Confidence Index beats economists' expectations
According to a report released by The Conference Board, an industry group, on Tuesday, September 29, US consumer confidence rose unexpectedly for the month of September. The index rose to 103 in September from 101.3 in August. The expected reading according to the Reuters poll was 96.1, which was left far behind by the reported data. This...
More