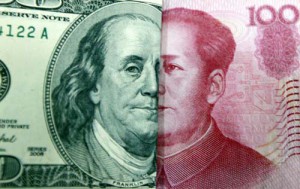 Although on the worldwide basis  yuan is not a match to USD right now, but in some countries its speed of adoption is really breathtaking.
For instance, below some figures about South Korea.
Yuan deposits rose by $4.2 billion in 
July to $16.2 billion. 
It was the biggest monthly growth on 
record and also the 13th straight 
monthly gain, taking the yuan's market 
share to 25.9 percent of all foreign 
currency deposits, compared with 64.5 
percent 

for

 dollar deposits.
The country was assigned a yuan clearing bank in July this year and was granted an 80 billion yuan ($12.98 billion) quota to invest in the world's second-largest economy's capital markets. 
South Korea's yuan payments value in June rose more than six-fold from a year earlier, taking it to eighth position in the world for yuan payments excluding China and Hong Kong, according to global transaction services organisation SWIFT. 
For the month, 68.9 percent of all direct payments between South Korea and China/Hong Kong were in yuan, up from 32.8 percent from the same period last year.
Looks like it is a good idea to have some CNY denominated assets.