Shares of Advanced Micro Devices AMD gained more than 3% in morning trading Wednesday, extending the run of positive momentum that has seen the trendy chipmaker gain more than 16% over the past four weeks.
AMD's recent run comes as analysts and investors continue to get more bullish on the company and its products. For example, earlier this week Baird analyst Tristan Gerra suggested that AMD could be positioned to gain market share in the data center space—which is dominated by Intel INTC—thanks to its recently-launched EPYC architecture.
And that's not the only place where AMD is gaining market share. According to a recent report from PC benchmarking site PassMark, tests involving AMD central processing units accounted for almost 26% of all x86-compatible tests submitted in the most recent quarter, up from 21% in the prior quarter and 18% last year.
These results could indicate that AMD's Ryzen chips are helping the company snag some share in the important x86-compatible market, another space that is currently dominated by Intel.
All of this is on top of the fact that manufacturers of graphics chips, such as AMD and rival Nvidia NVDA, have reportedly been benefitting from crypto-currency miners who are using the technology to pump out new bitcoins and ethereum.
Overall, the semiconductor industry remains strong. According to the Semiconductor Industry Association, global chip sales in May gained nearly 23% year-over-year to $31.9 million—the biggest jump since September 2010.
All of this positive news is clearly contributing to AMD's current momentum, but how high will the stock go? Can shares break higher than the 52-week peak that was reached in late February? Let's take a look at AMD's six-month chart for some answers here: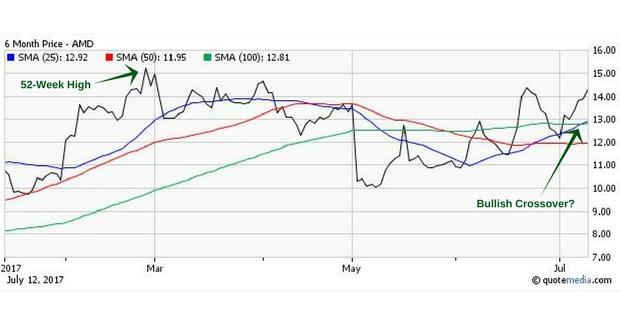 As we can see, AMD has been relatively erratic this year. Shares were trading comfortably above their 25-day moving average for most of February and March, but that support was quickly breached after the company's most recent earnings report disappointed investors.
If anything, AMD's chart reveals that the stock is very susceptible to short, yet significant, upward and downward movements. In many of these cases, we can point to a specific bit of news, product launch/review, or analyst note that caused the movement.
Unfortunately, this erratic behavior means that identifying any predictive trends is a bit more difficult. However, AMD is currently a Zacks Rank #2 (Buy) thanks to its positive earnings estimate revision activity, which is a good indicator of strength over the next one to three months.
Furthermore, we can see that AMD's 25-day moving average recently crossed over its 100-day moving average. This is important to note because it is often considered a bullish signal when a short-term moving average crosses above a longer-term moving average.
So will AMD break above its 52-week high? This stock has been a tough one to call recently, but there are plenty of things to be encouraged about from both a fundamental and technical perspective. If the stock doesn't break into a new range soon, investors should have July 25—the date of AMD's next earnings release—circled on their calendars. This is sure to be a major catalyst for the stock.
Want more stock market analysis from this author? Make sure to follow @
https://twitter.com/Ryan_McQueeney
on Twitter!
More Stock News: 8 Companies Verge on Apple-Like Run
Did you miss Apple's 9X stock explosion after they launched their iPhone in 2007? Now 2017 looks to be a pivotal year to get in on another emerging technology expected to rock the market. Demand could soar from almost nothing to $42 billion by 2025. Reports suggest it could save 10 million lives per decade, which could in turn save $200 billion in U.S. healthcare costs.
A bonus Zacks Special Report names this breakthrough and the 8 best stocks to exploit it. Like Apple in 2007, these companies are already strong and coiling for potential mega-gains. Click to see them right now >>
Want the latest recommendations from Zacks Investment Research? Today, you can download 7 Best Stocks for the Next 30 Days.
Click to get this free report
Advanced Micro Devices, Inc. (AMD): Free Stock Analysis Report
Intel Corporation (INTC): Free Stock Analysis Report
NVIDIA Corporation (NVDA): Free Stock Analysis Report
To read this article on Zacks.com click here.
Zacks Investment Research