The Wall Street adage "Sell in May and go away" definitely applies to Harley-Davidson (HOG - Get Report) , a dangerous and depressed stock that is poised for further steep declines this year.
The legacy U.S. motorcycle maker may have recently beaten earnings estimates, but its loosening grip on market share, burgeoning debt and increasing pressure from competition all make it a weak stock.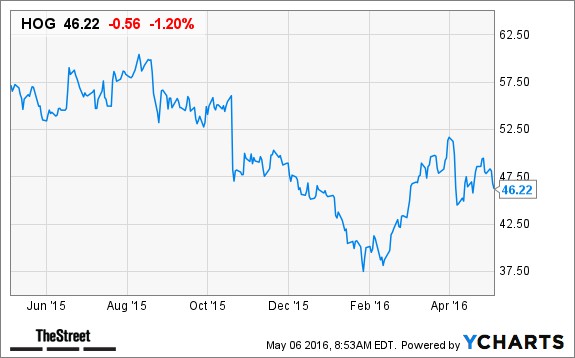 Harley-Davidson's fiscal first-quarter earnings were $250.5 million, beating analyst estimates of $239 million. However, earnings fell from $269.9 million a year earlier.
Must Read: Harley-Davidson CEO: Election Is Damaging the American Brand
Worldwide motorcycle retail sales in the quarter rose 1.4% from a year earlier, bolstered primarily by Europe, the Middle East and Africa (EMEA), as well as the Asia Pacific region.
However, in the Americas region, only Canada registered a sales increase, while the two biggest markets for the company, the United States and Latin America, shrunk slightly and hugely, respectively. The Americas region accounts for 70% of worldwide sales, of which the United States makes up a staggering 89%.
Meanwhile, sales of motor vehicles at companies such as Ford Motor and General Motors are soaring.
After Harley-Davidson's...
More