Chinese e-commerce platform JD.com (JD) has beat expectations with a 43.6% year-on-year increase in second quarter revenue.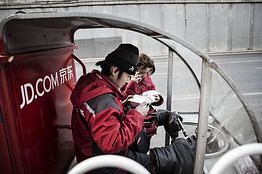 The U.S.-listed stock reported net revenue of CNY93.2 billion ($13.7 billion) compared to consensus forecasts for just under CNY90 billion. The company had previously forecast revenue of between CNY88 billion and CNY90.5 billion.
JD.com also reported a 46% rise in its gross merchandise volume - a measure of total sales dollar value - to CNY234.8 billion ($34.6 billion). Annual active customer accounts rose 37% to 258.3 million. Here's JD.com with the details:
GMV and Net Revenues. GMV from the online direct sales business was RMB136.6 billion in the second quarter of 2017, up 44% from the...
More