The gaming industry has taken investors on a wild ride the last decade, but after a rough couple years, it could be set for big wins in the year ahead. Here's why Wynn Resorts (NASDAQ:WYNN), Las Vegas Sands (NYSE:LVS), and MGM Resorts International (NYSE:MGM) are three casino stocks that look ready to win in 2017.
State of the gaming industry
Las Vegas has been on a steady growth path the last few years, and in 2016 more than 43 million visitors brought billions of dollars to the city. Gambling revenue has continued to grow there, but has become a smaller proportion of overall spending; non-gaming entertainment like hotel, restaurant, and live entertainment sales now make up the majority of total Las Vegas visitor spend.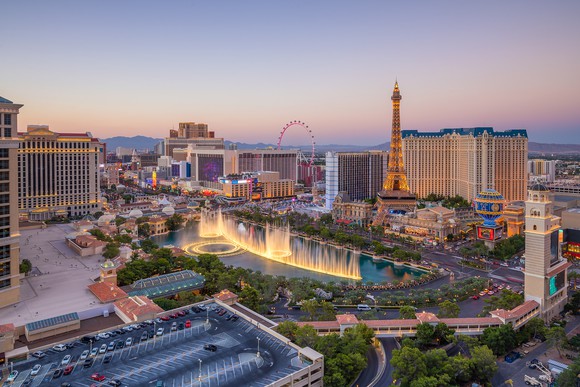 Moving on to Macau -- following the market crash there in the summer of 2014, when government restrictions on visitation and gambling spending on the island sent year-over-year gaming revenue comparisons spiraling down for 26 months, the Macau market actually seems to be back in a growth phase. Since August of last year, those gaming growth rates have steadily ticked back up, and Macau's gaming revenue for the month of March was 18% higher than March 2016.
Another region that looks promising now is the U.S. East Coast, with MGM's new resort outside of Washington, D.C., showing promising signs of success and Wynn Resorts' management building excitement about an upcoming resort near Boston. However, the most interesting region to watch next will be Japan, which after years of debate finally paved the way for legalized casino resorts. There will certainly be plenty of hurdles before any casino companies might be given a license to start construction, but many analysts believe that this could be the biggest growth driver in the gaming industry in years.
The three best bets for future gains
| Company | Market Cap | Price-to-Earnings Ratio | 2016 Sales | Change (YOY) | 2016 Earnings per Share | Change (YOY) |
| --- | --- | --- | --- | --- | --- | --- |
| Wynn Resorts | $11.8 billion | 49 | $4.67 billion | 9.6% | $2.39 | 24% |
| MGM Resorts International | $15.8 billion | 14 | $9.5 billion | 9% | $1.92 | N/A |
| Las Vegas Sands | $44.9 billion | 27 | $11.4 billion | (2%) | $2.10 | (15%) |
Data sources: Yahoo! Finance and each company's 2016 earnings reports. MGM reported an EPS loss of $0.82 in 2015. YOY = year over year.
Wynn Resorts is expensive...
More