The USD/JPY has been battered in 2016. We saw further decline last week after the FOMC meeting. To me the FOMC re-affirmed what the market has already been pricing in - or rather pricing out in terms of a hawkish campaign. But apparently, there was room to fall for the USD across the board. Now when we look at the USD/JPY daily chart, we can see that it is entering a key pivot area. 
USD/JPY Daily Chart 5/3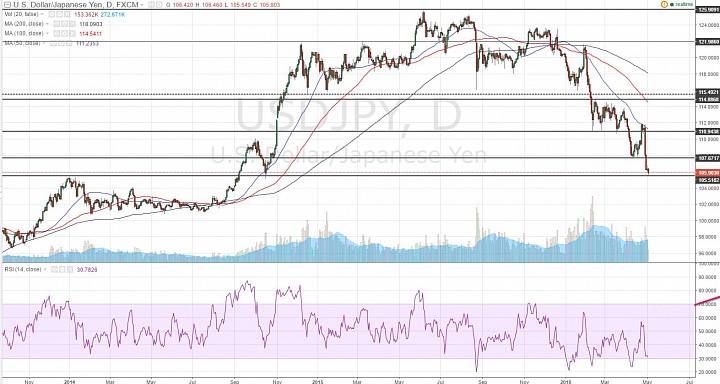 (click to enlarge)

The daily chart shows that price is almost in the 105-105.50 area. This area was a resistance at the end of 2013/start of 2014. Then after price broke above it in September 2014, price came down and established it as support in October. 

Along with this key pivot, we could see a bullish divergence develop if price stalls in the 105-105.50 area for a couple of days. 

Now, I am long-term bullish on USD/JPY, but feel like a knife is falling in the short-term. Therefore, I would like to go long, but want to either wait for price bottom confirmation or enter where there is great reward/risk - or a combination/compromise of these factors. 

The 107.65-107.70 area is a previous support pivot that can serve as a target for the short-term. I would anticipate a period of consolidation and choppiness after last week's plunge into this week, so its will be hard to watch - holding a long position here will be gut-wrenching if you watch the position closely. 

Now, if price pops up after a consolidation, I think there is upside towards 110.00 and we would still be within the context of a bearish market, or at most sideways-bearish market. 

After considering different factors, I decided to put in some entry orders around 105.50 and some around 105.20. With stops around 104.75, even a target of 107 offers decent enough reward to risk.