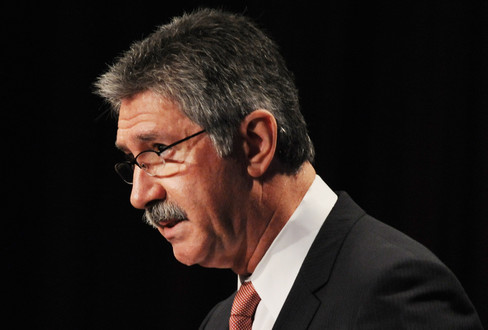 In March 2013, Mario Longhi lobbed an unexpected question into a roomful of 150 U.S. Steel Corp. managers: Who here would buy the company's stock, tomorrow?
He gave them three seconds, and "only a few reacted in that time frame positively," Longhi said.
Since that meeting, Longhi has been promoted to chief executive officer, and nine months into his tenure he's closed one plant permanently, two more are temporarily idled and he's planning to overhaul another. It's all part of his plan to transform the 144-year-old company into a lean, modern steel producer. Investors are taking note, with the shares up 53 percent since he took over.
For more than a century, U.S. Steel's strategy was based on volume -- make lots of steel, maximize production to minimize costs. Now he's pushing the idea that getting smaller will help it survive.
"The magnitude of the change that needs to happen is not small," Longhi said in a June interview. "It's a lot of hard lifting."
The Brazil born-and-educated engineer began an improvement program he's calling "The Carnegie Way," named for co-founder Andrew Carnegie. Instead of riding the peaks and troughs of global commodity markets, Longhi's goal is for U.S. Steel to consistently turn a profit.
Expected Losses
He's announced $700 million of cash savings this year, through measures including reducing working capital and another $290 million through improving manufacturing processes and supply chains, and may offer more details on July 29 when the Pittsburgh-based company reports its second-quarter results. It's expected to report a loss of $60.3 million, according to the average of five analysts' estimates compiled by Bloomberg
He faces a stiff...
More