Fitbit is going to report its earnings tomorrow after the closing bell. For me it's a special earnings call because I see how people support the stock while it's going down. I think that Fitbit has even more downside and can go lower because of a few reasons. First of them and the most important is their products and prices - why should I pay for Fitbit's wristband when I have Xiaomi's one with the same the most usable features? The second reason is that Apple is steadily destroying the sector with their Apple Watch. They introduced Health Kit a few months ago that could really disrupt the whole sector in long-term. 
Analysts are still positive on Fitbit because there are lots of rumors regarding their Chinese market penetration. Some of the reports are saying that Fibit is able to beat Xiaomi in Asia. I don't think that it could ever happen, but analysts expect almost 16% revenue growth rate:

And they expect EPS at 11c:

Source: Financial Times
However, as we can see, Fitbit almost always tops the analysts estimates, the stock goes down after each earnings report. And here is a paradox, people don't want to buy other Xiaomi's products, but they are disappointed that Fibit doesn't make any technology breakthroughs. 
Anyway, Fitbit is going to report their earnings tomorrow. After the most recent earnings report FIT stock dropped more than 18%, moreover, their annual report was followed by a 27% fall. It means that we are working with a highly volatile stock. Therefore Fibit's options are really expensive: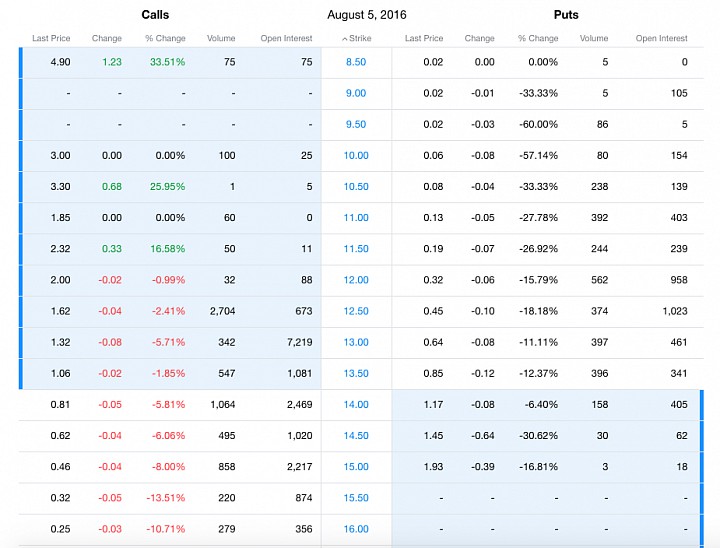 Source: Yahoo Finance
As we can see from the chart, buying 14 call and 14 put will cost you $1.98 per contract. And to be honest, it's a lot, that's why the only way to optimize the strategy and compensate the costs is to buy OTM call and OTM put. It will at least cover a certain portion of your investment. I suggest we should short 16 call option and 11 put option, in this case we will have the following initial outlay: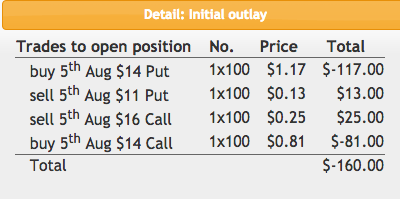 And the following P&L profile: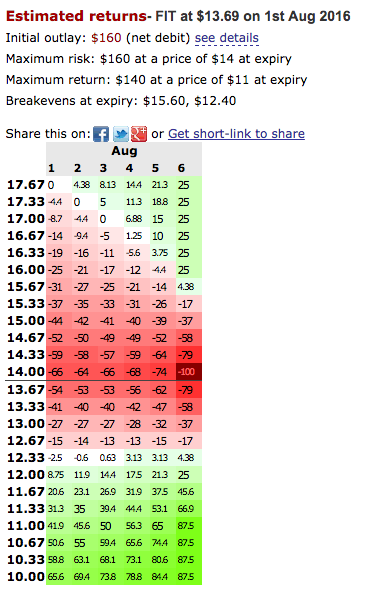 Source: optionsprofitcalculator.com
As you can see from the table, you will get your return as soon as the stock moves up more than 14% and down more than 10%. According to the previous statistics, it's more than possible. It's a risky strategy, but the return is really hefty - 87.5% if we see the after-hours crash of FIT stock. 
Who is bullish or bearish on FIT here?