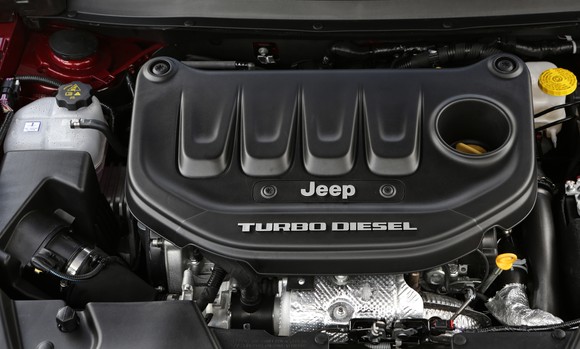 FCA"s Jeep Cherokee is offered with this 2.2 liter "MultiJet" diesel engine in Europe. German government authorities may have discovered that some of FCA's diesel engines cheat on emissions tests. Image source: FCA.
Shares of Fiat Chrysler Automobiles (NYSE: FCAU) fell sharply on Monday morning after a report that the German government may have found evidence that some of FCA's diesel engines may be programmed to shut off their emissions controls after a pre-set period of time.
The details: FCA's diesels might be cheating
According to the report in Germany's Bild am Sonntag newspaper, several tests by the German government's motor vehicle authority KBA found evidence that the emissions control systems in some of FCA's products would switch themselves off after 22 minutes of operation. The newspaper noted that government emissions tests typically run for about 20 minutes.
FCA officials were summoned to a KBA hearing on the investigation last week, as were officials from General Motors (NYSE: GM) subsidiary Opel. But unlike Opel, which promised full cooperation, FCA didn't attend. It doesn't acknowledge that the German government has jurisdiction over its vehicles. It said its cars have passed all tests conducted by the relevant Italian government agency, and it told the German regulators that they should take any complaints to their Italian government counterparts. 
Under European Union rules, the Italian government is responsible for testing FCA's cars because the company's European center of operations is in Italy. 
What it means for FCA
If the report (and the tests) turn out to be accurate, it puts FCA in a tricky spot. Rival Volkswagen (NASDAQOTH: VLKAY) has suffered severe consequences in the wake of its admission that some of its diesel-powered vehicles were programmed to turn on some emissions controls only when the cars' software detected that a test was under way. 
It's believed that VW cheated because its engineers couldn't figure out how to make a diesel engine comply with tightening emissions regulations without compromising performance or adding expensive emissions-control hardware. Their "solution" was to disable some of the cars' emissions controls during normal driving, which gave the engines better performance and fuel economy. 
Is it possible that FCA's engineers faced a similar conundrum and came up with their own workaround? It is definitely possible. But it's also worth noting that the charges against Volkswagen started with U.S. regulators, and there has been some sentiment in German business circles that the U.S. charges were an effort to hurt VW's competitive standing in order to benefit American automakers. 
It's possible that sentiment played some part in the German government's decision to target Fiat Chrysler and GM's Opel unit. So far, there doesn't seem to be a whole lot of evidence to support the suggestion that GM was cheating. But if these reports are true, FCA will have some hard questions to answer. 
How bad could this get?
Theoretically, Germany's KBA could prohibit FCA from selling its vehicles in Germany. That would hurt: Germany is FCA's second-largest market in Europe. But it would be a drastic step, and right now it seems unlikely. It seems more likely that KBA officials will push their Italian counterparts to take action. That could result in fines and other punishments for FCA, though it's too early to even guess as to the specifics.
Either way, the negative publicity won't help FCA in Europe. It's less likely to have a significant impact in the U.S., because the small diesel engines in question aren't sold here. 
But two thoughts come to mind. First, this could be a headache for FCA in Fiat's home market, one that could be exacerbated by the company's refusal to cooperate so far. Second, if there really is a tit-for-tat element motivating the KBA's investigations, and a desire to push back on the aggressive American action against VW, Ford (NYSE: F) might well be up next. Stay tuned. 
Something big just happened
I don't know about you, but I always pay attention when one of the best growth investors in the world gives me a stock tip. Motley Fool co-founder David Gardner (whose growth-stock newsletter was the best performing in the U.S. as reported by The Wall Street Journal)* and his brother, Motley Fool CEO Tom Gardner, just revealed two brand new stock recommendations. Together, they've tripled the stock market's return over the last 13 years. And while timing isn't everything, the history of Tom and David's stock picks shows that it pays to get in early on their ideas.

Click here to be among the first people to hear about David and Tom's newest stock recommendations.
*"Look Who's on Top Now" appeared in The Wall Street Journal in Aug. 2013, which references Hulbert's rankings of the best performing stock picking newsletters over a 5-year period from 2008-2013.