Baidu (BIDU) is a gradually expanding information giant, which covers more and more business segments as time passes by. The Q1 report shows an increase in assets due to the increase both in short-term and long-term investments. The short-term investments have increased by 783,653 thousand RMB ($120,896) and amounted to 58,752,895 thousand RMB ($9,074,941), while the long-term investments have increased by 340,867 thousand RMB ($52,660,843) and amounted to 38,299,459 thousand RMB ($5,908,534).
Baidu is actively diversifying its income streams by investing in various projects, such as the development and sale of self-driving cars, the first release of which is scheduled in 2018, food delivery, and the creation of artificial intelligence.
Despite the fact that the company's revenues increased by 24.3% in Q1 2016, compared to Q1 2015, its net income decreased significantly – by 18.9%, to be precise – , while the operating profit rose by 2.6% and amounted to $342.9 million. The decline in profits can be explained by a 22.3% increase in operating expenses relative to Q1 2015. This was primarily due to the growth in iQiyi's content costs, as well as due to marketing costs aimed to enhance the competitiveness of other Baidu products, such as Baidu Wallet, which competes with the services of Alibaba Group Holding Ltd. and Tencent Holdings Ltd.
At the moment, Baidu's management is evaluating a third-party purchase offer for the controlling stake (80.5%) in iQiyi. A sale of this business will save on content costs and will lead to an increase the profitability of the whole business.
Also, 60% of Baidu's profits in Q1 2016 came from mobile products, which is 10% higher than in the first quarter of 2015. However, it is important to know that the cost of advertising on mobile platforms is much less then on PCs. Consequently, earning profits from mobile advertising is more difficult than from PC advertising.However, this difference is temporary because the number of customers is growing continually – in tandem with the number of mobile Internet users in China.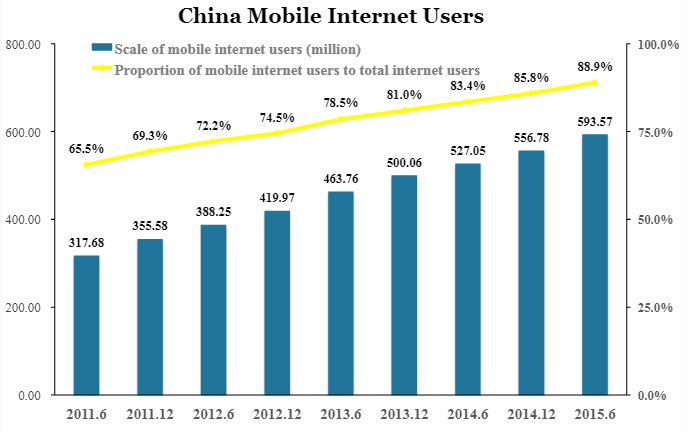 (Source: chinainternetwatch)
Based on the data from the report, the number of mobile search active users increased by 9% in March 2016 compared to March 2015. Moreover, the same indicator increased by 19% for mobile maps, and there was a 12% increase in online marketing customers for the same period.
It should also be taken into account that the slowdown in the Chinese economy, according to the ITG analyst Henry Guo did not affect the effectiveness of Baidu's search engine. It is possible to agree with this on the basis of positive data for Services PMI, which includes the company's business.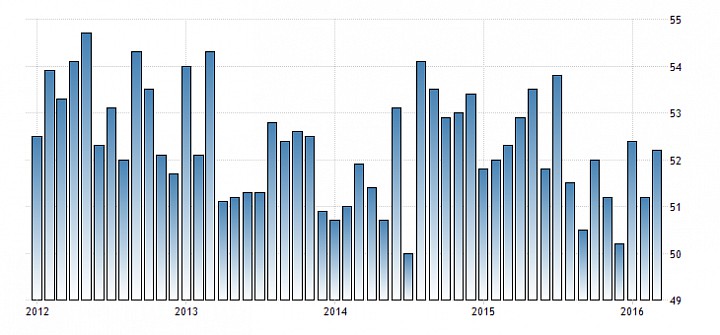 (Source: tradingeconomics)
It is very likely that a complete stabilization of the Chinese economy and a shift to domestic consumption will be a further catalyst for growth in Baidu's customer base.
Conclusion
In general, Baidu has real potential for effective development which indicates that its shares are expected to grow at a reasonable pace in the future. Hence, I issue a BUY recommendation on the company's shares with undefined target prices.