Herbalife Ltd. HLF shares slumped more than 6% yesterday, when law firms Faruqi & Faruqi, LLP and Lundin Law PC announced investigation against the company related to possible violations of federal securities laws.
We note that the company slashed its sales guidance yesterday, after raising the guidance in May during first-quarter 2017 conference call. In addition, the company's general counsel, Mark Friedman, who was involved in the 2016 settlement with U.S. regulators for deceiving investors, stepped down. This raised questions on the company's compliance with federal securities laws.
Herbalife now expects sales to decline 2–6%, compared with 0.5–4.5% decline expected earlier. Also, volumes are expected to decrease 4–8% compared with previous range of 1–5% for the second quarter.
The company expects net sales in 2017 to increase nearly 0.5–3.5% versus 3–6% anticipated earlier. Volumes are projected to be down 1% to up 2% compared with previous guided range of 2–5% growth.
Herbalife issued soft sales guidance for both the second quarter and 2017, due to the new Federal Trade Commission rules in the U.S., softness in its Mexico operations and distributors adopting the latest protocols.
Herbalife LTD. Price, Consensus and EPS Surprise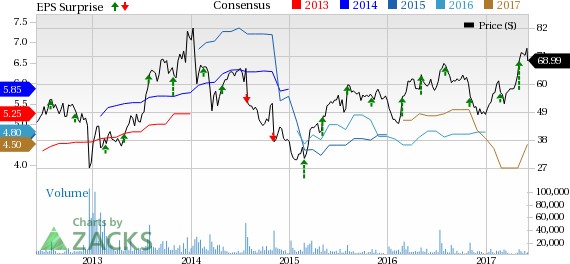 Herbalife LTD. Price, Consensus and EPS Surprise | Herbalife LTD. Quote
Notably, this California-based company has always remained under the scanner. Billionaire investor Bill Ackman made a $1 billion bet against the nutrition company in Dec 2012 and accused it of being a pyramid scheme i.e. it employs deceptive marketing practices for improving business. Ackman believed that the nutrition clubs run by Herbalife's distributors focus on recruitment instead of selling products. Herbalife had received a civil investigative demand in 2014 from the FTC related to its marketing practices. However, Herbalife resolved the probe with the FTC and paid $200 million in fines and settlements without being named a pyramid scheme.
Herbalife has been forced to prove that 80% of its annual sales come from documented consumer purchases. Yesterday, the company outpaced the key threshold of 80% under its agreement with the U.S. Federal Trade Commission. It announced that 90% of the U.S. sales in May were documented purchases, which consisted of over three million receipted retail transactions.
Despite the allegations, Herbalife has remained upbeat about its prospects. Recently, this Zacks Rank #1 (Strong Buy) company posted better-than-expected first-quarter 2017 results. In fact, Herbalife's earnings have outpaced the Zacks Consensus Estimate for 10 straight quarters now, with a trailing four-quarter average of 18.4%.
The company's shares have outperformed both the Zacks categorized Retail–Drug Stores industry and the broader sector year to date. Meanwhile, the Zacks categorized Retail-Wholesale sector gained 15.6%. This stock surged 43.3% against the industry's decline of 1.6%. The industry is currently placed at top 15% of the Zacks Classified industries (40 out of 256).

Other Stocks to Consider
Some other top-ranked stocks worth considering in the broader Retail-Wholesale sector include The Children's Place, Inc. PLCE, Best Buy Co., Inc. BBY and J.Jill, Inc. JILL.
Children's Place, with a long-term earnings growth rate of 8%, has posted an average earnings beat of 36.6% in the past four quarters. The stock currently sports a Zacks Rank #1 (Strong Buy). You can see the complete list of today's Zacks #1 Rank stocks here.
Best Buy, a Zacks Rank #1 stock has a long-term earnings growth rate of 11.4%. Also, it has posted an average earnings beat of 33.8% in the last four quarters.
J.Jill carries a Zacks Rank #2 (Buy) and has a long-term earnings growth rate of 19.8%.
Looking for Stocks with Skyrocketing Upside?
Zacks has just released a Special Report on the booming investment opportunities of legal marijuana.
Ignited by new referendums and legislation, this industry is expected to blast from an already robust $6.7 billion to $20.2 billion in 2021. Early investors stand to make a killing, but you have to be ready to act and know just where to look. See the pot trades we're targeting>>
Want the latest recommendations from Zacks Investment Research? Today, you can download 7 Best Stocks for the Next 30 Days.
Click to get this free report
Children's Place, Inc. (The) (PLCE): Free Stock Analysis Report
J.Jill, Inc. (JILL): Free Stock Analysis Report
Best Buy Co., Inc. (BBY): Free Stock Analysis Report
Herbalife LTD. (HLF): Free Stock Analysis Report
To read this article on Zacks.com click here.
Zacks Investment Research