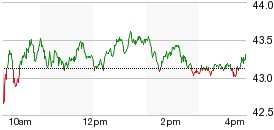 Imports of steel, which continue to haunt the American steel industry, shoot up roughly 5% from the previous month in July – according to the American Iron and Steel Institute ("AISI"), an association of North American steel makers.
Total steel imports rose in the reported month, reversing a declining trend that was witnessed in the previous five months. July saw a significant rise in imports from China – the world's top steel producer. Slowing demand at home due to a fragile economy has forced the country to step up steel exports (driven by excess capacity) to world markets with the U.S. being a prime target market.
AISI said that, based on preliminary U.S. Census Bureau data, total U.S. steel imports for July was 3,243,000 net tons, a 4.6% rise from a month ago. That number includes finished steel imports of 2,578,000 net tons, which is also up 3.7% from June.
Estimated market share of finished steel imports was flat on a monthly basis in July at 27%. But year-to-date finished steel import market share was estimated at 31%, which is still higher than 28% clocked for full-year 2014.
The U.S. steel industry, which directly or indirectly supports over a million jobs, saw a year over year jump in finished steel imports for the first seven months of 2015. Finished steel imports, year-to-date, shot up 10% year over year to roughly 20.44 million net tons. However, total imports for the period remain unchanged at around 24.96 million net tons.
Major finished steel products that showed a significant import increase on a monthly comparison...
More