On Thursday, November 9th, NVIDIA (NVDA) will release its third quarter earnings results after the bell. The company is a Zacks Rank 1 (Strong Buy), and have a Value, Growth, and Momentum score of F.
Dave will look at NVIDIA's past earnings, take a look at what is currently going on with the company, and give us his thoughts on their upcoming earnings announcement.
Furthermore, Dave will uncover some potential options trades for investors looking to make a play on NVIDIA ahead of earnings.
NVIDIA in Focus
NVIDIA Corporation is the worldwide leader in graphics processors and media communications devices. The NVIDIA® Tesla® accelerated computing platform gives modern data centers the power to accelerate both artificial intelligence and high-performance computing workloads. NVIDIA® DGX Systems are built on the new, revolutionary NVIDIA Volta GPU platform. Powered by NVIDIA® Tesla® GPUs and NVIDIA NVLink, the HGX reference architecture standardizes the design of data centers accelerating AI in the cloud-from autonomous driving and personalized healthcare to superhuman voice recognition. NVIDIA GPU Cloud (NGC) is a GPU-accelerated platform that runs everywhere. Data scientists and researchers can now rapidly build, train, and deploy neural network models to address some of the most complicated AI challenges. Their researchers operate as a think tank, accelerating advances in product technologies, including AI innovations like facial animations and light transport.
NVIDIA is expected to report earnings at $0.94 per share according to the Zacks Consensus Estimate. Last quarter they beat earnings expectations by 46.38%. They reported earnings at $1.01per share, beating their estimate of $0.69. They have an average earnings surprise of 34.54% over the last 4 quarters.
NVIDIA Corporation Price, Consensus and EPS Surprise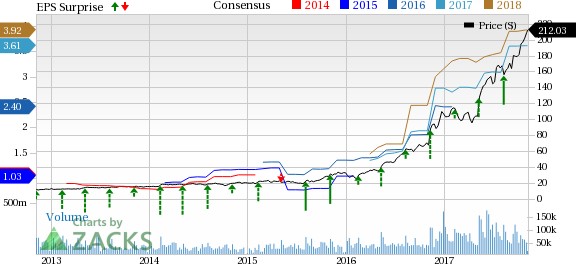 NVIDIA Corporation Price, Consensus and EPS Surprise | NVIDIA Corporation Quote
Bottom Line
How should investors play NVIDIA ahead of their earnings report? For insights on the best options trades, then tune in at 1:00pm CST today to see David's thoughts.
Wall Street's Next Amazon

Zacks EVP Kevin Matras believes this familiar stock has only just begun its climb to become one of the greatest investments of all time. It's a once-in-a-generation opportunity to invest in pure genius.

Click for details >>
Want the latest recommendations from Zacks Investment Research? Today, you can download 7 Best Stocks for the Next 30 Days.
Click to get this free report
NVIDIA Corporation (NVDA): Free Stock Analysis Report
To read this article on Zacks.com click here.
Zacks Investment Research