On Wednesday, July 19th, Qualcomm QCOM will release its third quarter earnings results after the bell. The company is a Zacks Rank 4 (Sell), and have a Value, Growth, and Momentum score of D.
Dave will look at Qualcomm past earnings, take a look at what is currently going on with the company, and give us his thoughts on their upcoming earnings announcement.
Furthermore, Dave will uncover some potential options trades for investors looking to make a play on Delta ahead of earnings.
Qualcomm in Focus
QUALCOMM Inc. develops and delivers innovative digital wireless communications products and services based on the company's CDMA digital technology. The company's business areas include CDMA integrated circuits and system software; technology licensing; the Binary Runtime Environment for Wireless applications development platform; Eudora e-mail software; digital cinema systems; and satellite-based systems including portions of the Globalstar system and wireless fleet management systems, OmniTRACS and OmniExpress. (Company Press Release)
Qualcomm is expected to report earnings at $0.67 per share. Qualcomm reported earnings last quarter at $1.20 per share, beating the Zacks Consensus Estimate by $0.15 last quarter. Qualcomm has an average surprise of 14.45% over the last 4 quarters.
QUALCOMM Incorporated Price, Consensus and EPS Surprise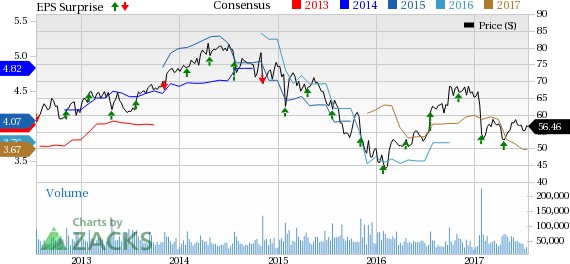 QUALCOMM Incorporated Price, Consensus and EPS Surprise | QUALCOMM Incorporated Quote
Bottom Line
How should investors play Qualcomm ahead of their earnings report? For insights on the best options trades, then tune in at 1:00pm today to see David's thoughts.
5 Trades Could Profit "Big-League" from Trump Policies
If the stocks above spark your interest, wait until you look into companies primed to make substantial gains from Washington's changing course.
Today Zacks reveals 5 tickers that could benefit from new trends like streamlined drug approvals, tariffs, lower taxes, higher interest rates, and spending surges in defense and infrastructure.
See these buy recommendations now >>
Want the latest recommendations from Zacks Investment Research? Today, you can download 7 Best Stocks for the Next 30 Days.
Click to get this free report
QUALCOMM Incorporated (QCOM): Free Stock Analysis Report
To read this article on Zacks.com click here.
Zacks Investment Research