Chinese investment in U.S. commercial real estate has changed over the past three years, and this has caused changes in the ownership of U.S. assets. It has changed even more over the past six months, and this means even bigger changes for U.S. industrial real estate.
According to an Auction.com inforgraphic, Chinese investment firms, state-owned enterprises, and developers invested $367.8 million in U.S. commercial properties in 2012. This increased to $4,925.3 million by the end of 2014. Demand was unleashed by changes in the regulations of the China Insurance Regulatory Commission and National Development Reform Commission that permittted increased outbound investments.
This placed China in a distant second in foreign direct investment behind Canada, which invested $14.59 billion over the same period.
The Chinese were not, however, particularly interested in industrial properties. As our first pie chart reveals, the orange slice representing industrial property investment was only $139 million, a mere 1.3% of total investment.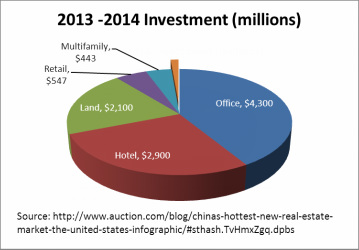 This has dramatically changed this year. In February, Global Logistics Properrties Ltd. (GLP), a company headquartered in Singapore, announced the purchase of a 55% interest in the IndCor portfolio from Blackstone Group LP for $8.1 billion. This portfolio contained 117 million square feet of distribution warehouse space. Last week, they purchased a 100% interest in the Industrial Income Trust portfolio for $4.55 billion. This portfolio contains 58 million square feet.
GLP wants to reduce its ownership in both of these portfolios to 10%.
GLP has drastically changed the global investment composition in U.S. properties. If we add the GLP investments to the 2013-2014 Chinese investments, industrial real estate now comprises 55.4% of the total. Furthermore, China eclipses Canada as the foreign country with the highest investment in U.S. real estate.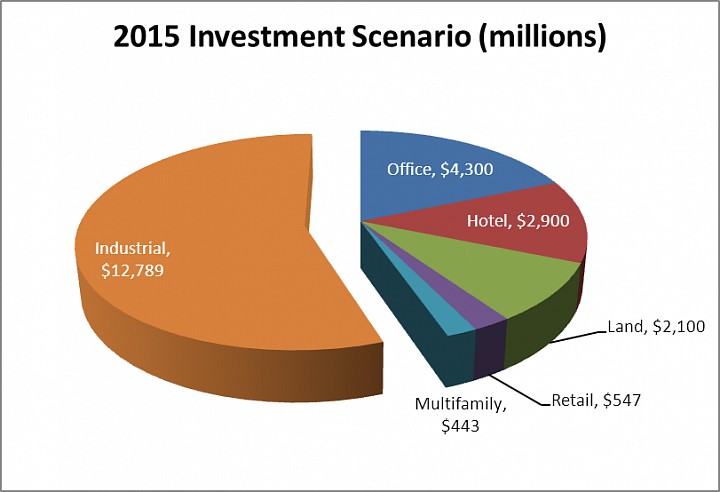 Chinese investors have demonstrated that they don't require high returns to invest in U.S. real estate. The purchase of the Waldorf Astoria in New York City at a 2.0% cap rate and the Baccarat Hotel in New York and Waldorf Astoria Chicago, each with 3.0% cap rates, indicate that Chinese investors represent very tough competition for investors in other countries.
Two important considerations in all of this are troubles in the Chinese stock market and exchange rates.
It's no secret that the Shanghai stock market has declined precipitously in the past couple of weeks. I've expected this to happen for some time now. The funds used to purchase U.S. industrial real estate, however, do not appear to be the same funds that are invested in the Shanghai. I don't expect the stock market troubles to have a great deal of impact on the Chinese thirst for U.S. assets by the Chinese, as one of the chief attractions of this asset class for them is more stability.
Althogh the U.S. dollar has been sttrengthening in relation to the moneys of many other countries, it has been remarkabley stable in relation to the yuan. With the exceptions of a few brief dips, the U.S. dollar has cost about 6.2 yuan since March. There is no indication that Chinese investors are going to get priced out of the U.S. market because of currency fluxuations.
Doug McKnight is a commercial real estate appraiser and writer. He blogs every weekday on the Property & Value blog at: http://cre-writer.com/property--value-blog.html