Summary
Bernie Madoff's $50B Ponzi scheme defined the Financial Crisis of 2008.
As the market turns down and the economy stalls, more Ponzi schemes will likely emerge.
Like Madoff, WFT is insolvent by $3.1B and thirsty for new investors to repay current investors.
Year-to-date 2016 WFT had cash burn of $400MM and could seek new investors in early 2017.
Sans new money WFT could become the oil industry's Bernie Madoff.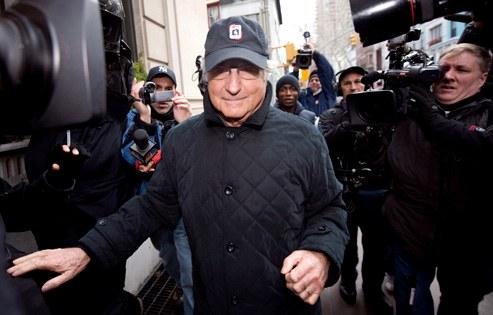 Bernie Madoff after revealing his $50B Ponzi scheme
Awash in $100 oil prices after the Financial Crisis of 2008, Weatherford International (NYSE:WFT) spent billions on capex to help clients drill for oil. It also splurged on a string of acquisitions to expand operations. The Fed's quantitative easing ("QE") program came to an end in Q2 2014. Oil prices then diverged to the downside, taking Weatherford's business prospects with it. When principal payments came due on Weatherford's $8 billion debt load in Q1 2016, it created a strain on the company's liquidity. Bernie Madoff, Chairman and head of Madoff Investment Securities LLC ("BMIS"), faced a similar problem in December 2008.
Madoff's Ponzi Scheme Defined The Financial Crisis
In many ways Madoff's $50 billion Ponzi Scheme defined the Financial Crisis. To attract investors Madoff pitched guaranteed returns of 13.5% to 20.0%. However, the broker, his investment background or the investment strategy were not disclosed. When regulators performed due diligence on the funds they discovered the assets existed and the money manager -- Bernie Madoff -- was exceeding promised return horizons. He reportedly employed a "market neutral" strategy -- buying securities in the S&P 500 and hedging the downside with stock options.
Madoff delivered double-digit returns even when the general market was negative for an extended period. Rumors on the Street were that Madoff was subsidizing his hedge fund returns with his brokerage business. According to Shock Exchange: How Inner-City Kids From Brooklyn Predicted The Great Recession And The Pain Ahead, the "scheme" unraveled when Madoff's fund was hit with $7 billion in redemptions:
During the first week of December 2008 Madoff told his sons, Andrew and Mark, that clients had requested approximately $7 billion in redemptions, creating a...
More