Indian stocks turned in mixed performance on Tuesday, November 1. However, positive sentiment was driven by сrude futures, which rebounded marginally, and positive macro data.
Both China Caixin and NBS Manufacturing PMI were up 51.2 in October, having improved compared to September.
Japan Manufacturing PMI came in at 51.4 in October, while analysts expected the barometer to reach 51.7.
South Korea's Consumer Price Index rose 0.1% m-o-m and 1.3% y-o-y in October.
Recapping the benchmarks, the Nifty 50 closed 0.01% higher at 8,626.25, while the BSE Sensex 30 edged down 0.19% to 27,876.61.
The session's top advancers included Eicher Motors (+5.16%) and Hindalco Ind (+4.77%).
Today's worst performers were Axis Bank (-2.58%) and Sun Pharma AR (-1.88%).
On the currency market, the USD/INR pair edged up 0.07% to 66.735, while EUR/INR climbed 0.35% to 73.4410.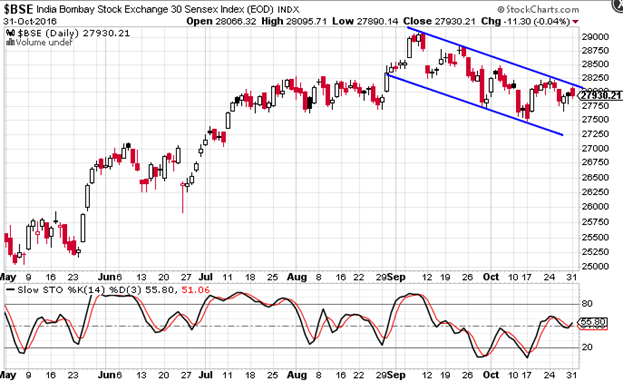 From a technical standpoint, the BSE Sensex 30 approached the upper boundary of a falling channel on the daily chart, so the benchmark still holds short-term upside potential.