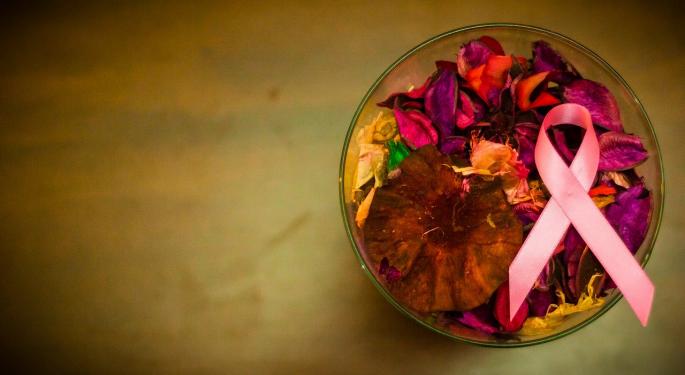 Citi now sees 16.3 percent upside in the shares of TESARO Inc TSRO 3.56% following its price target increase to $90 from $65, as it is "now more confident about Niraparib approval in ovarian cancer and reimbursement."
The 16.3 percent upside is based on the stock's June 29 closing price of $77.40 when the company announced that Niraparib significantly improved progression-free survival for patients with ovarian cancer in a late stage study.
"We now see adjusted peak PARP revenues at $800 million vs. $450 million previously as we conservatively increase duration, increase penetration among HRD+ve pts and assign higher probability to HRD +ve ovarian and breast cancer (only gBRCA) revenues," analyst Robyn Karnauskas wrote in a note.
Karnauskas, who remains Buy rated on the stock, said clarity on duration of treatment at ESMO in October 2016 may provide incremental upside.
In addition, the analyst increased the probability of success among both HRD +ve secondline patients and gBRCA breast cancer patients to 100 percent from 50 percent.
For 2016, Citi maintained its loss estimate of $6.86 a share, while narrowing its 2017 loss forecast to $5 from $5.17 a share. The Street expects a loss of $7.09 a share for 2016 and loss of $4.98 a share for 2017.
TESARO closed Friday's regular trading session down 3.56 percent on the day at $81.06.
Date
Firm
Action
From
To
Jun 2016
Jefferies
Downgrades
Buy
Hold
May 2016
Credit Suisse
Initiates Coverage on
Outperform
Apr 2016
FBR Capital
Initiates Coverage on
Outperform
© 2016 Benzinga.com. Benzinga does not provide investment advice. All rights reserved.