The virtual currency bitcoin fell sharply, along with many assets against the the USD after Friday's strong US jobs report. It was already bearish in 2014 after a mania surge at the end of 2013 from prices around 100 up to the euphoric high of 1163.

Price fell to 340 by April and consolidated further. After a high of 685 in June, the bearish trend was revived. After Friday's dip, bitcoin continued to sell off into the weekend and is starting this week below the 340 low, making a fresh low on the year at 275 before stalling. Note that there is also a support pivot in 2013, at 265.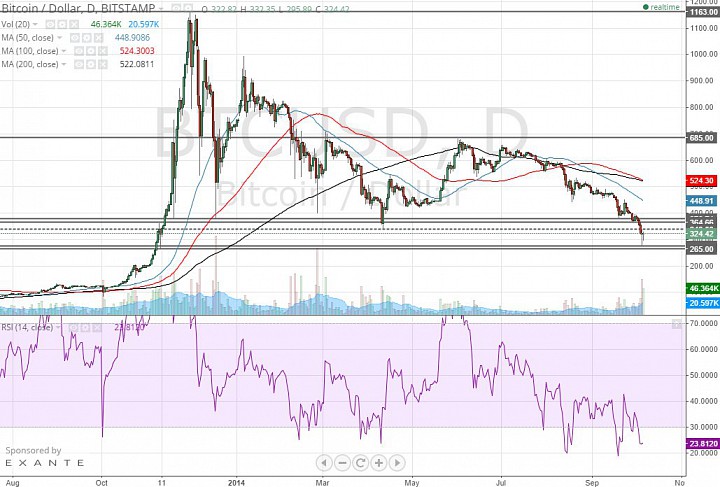 (Bitcoin Daily Chart 10/6)
The 4H chart shows the sell-off and the current consolidation off of 275. If price rallies back in the 365-380 area, we should expect some sellers. Here we have 2 previous support pivots and the 50-period simple moving average in the 4H chart. Also, if the RSI approaches 60 then turns flat and starts coming back down, we should expect a bearish continuation attempt. 

If price breaks above 400 and the 4H RSI pushes above 60, then we should expect a significant consolidation or bullish correction.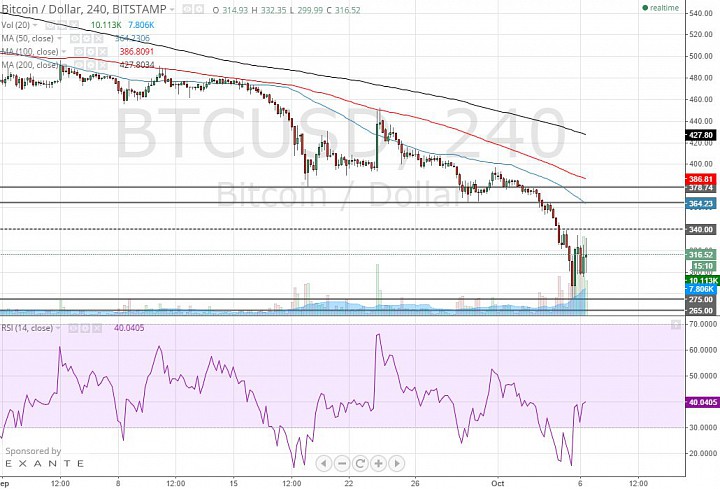 (Bitcoin 4H Chart 10/6, click to enlarge)