Today we had a couple of US economic releases that should have mixed impact on the USD.
Inflation:
In June, consumer prices measured by the CPI increased 0.3% on the month. This was in-line with expectations and was slightly lower than the 0.4% reading in May. The core CPI reading, which excludes food and energy showed grew 0.1%, lower than the forecast of 0.2%, and the previous reading of 0.3%. The annual inflation rate without seasonal adjustment, came in at 2.1%, which was the same as in May.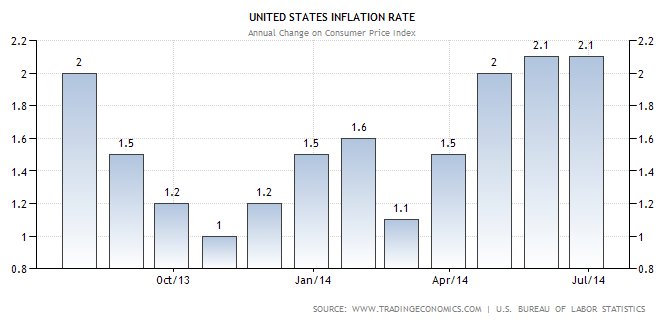 (source: tradingeconomics.com)
June's CPI data shows a trend of increasing inflationary pressure leveling off. If inflation were to push further above 2.1%, it would provide impetus for the FOMC to raise rates earlier. If the inflation rate comes back down below 2.0%, the FOMC will instead have more room to delay the rate hike if needed. Today's data is status quo, but could be interpreted to be slightly USD-negative, though it the bearish USD reaction should be limited to the intra-day outlook.
Housing:
Existing Home Sales in June was 5.04M in an annualized rate. This surprised estimates. After an upwardly revised 4.91M reading in May, economists had forecast a slight bump toward 4.98M. This is the strongest existing home sales report so far this year, and shows that the housing recovery is picking up.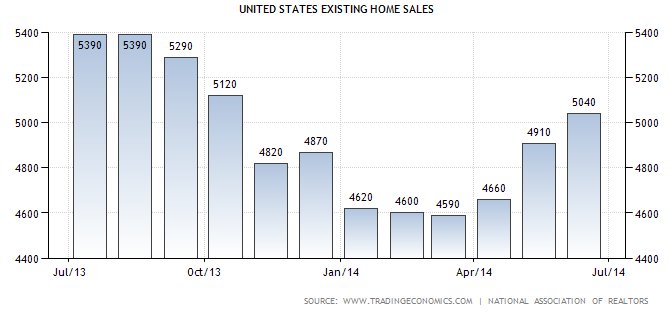 This trend of improving housing data, along with improving employment and manufacturing data we have gotten recently, should trump the negative effect of the inflation pressure leveling off at target level. 

Today's data should help the USD remain resilient this week.