The EUR/CAD has been bearish in the last week of August falling to almost 1.47 to end the month. Before that, the pair has been bullish since April. Now, the recent bearish correction has been sharp, but the 1H chart shows that price has stabilized. 

EUR/CAD 1H Chart 9/2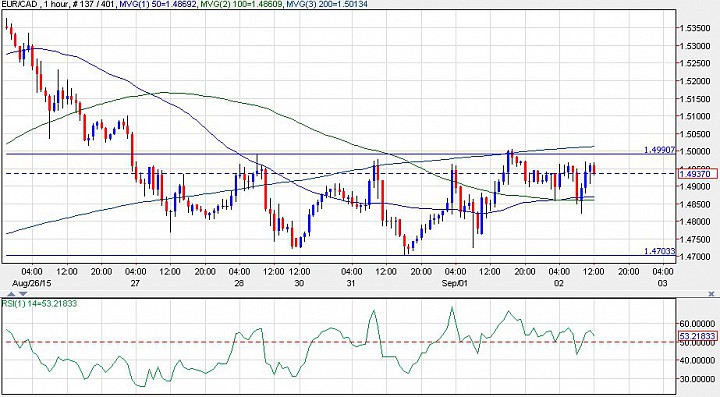 (click to enlarge)

As we can see in the 1H chart, price is in a short-term consolidation range between roughly 1.47 and 1.50. This week's price action suggests that bulls are starting to take over and starting to make this consolidation range into a price bottom. I say this because of the structure of the consolidation - it looks like a rounded bottom. Also, the fact that price is now staying in the upper half of the range this week shows that bulls are indeed starting to "win" in this market. 

A clear break above 1.50 this week would be a sign that EUR/CAD is bullish again. The high around 1.55 would be back in sight. A conservative bullish target would be 300 pips (width of the current range) above 1.50, or 1.53. However, if price fails to break 1.50, or does briefly but falls back below 1.4850, then, the bearish bias would still be around, and the 1.47 low would still be in play. A failed bullish breakout can translate into a bearish one, so if we saw a failure to extend above 1.50 followed by a drop towards 1.47, don't expect that support to hold. Or if you do see support at 1.47, limit the bullish outlook in anticipation of an eventual break below 1.47. The bearish projection would target 1.44 (300 pips lower).