While global equity markets hover near record-er highs, global GDP growth expectations have erased their February dead cat bounce hopes and tumbled back towards cycle lows. This is all confirmed by the latest data from Goldman Sachs whose Global Leading Indicator remains mired in "contraction" for the 4th month in a row...
The death cross... deathier crosses...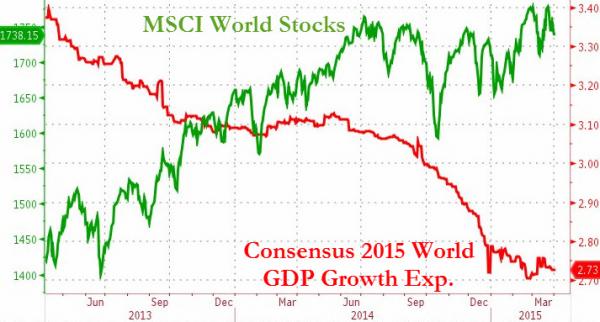 Confirmed by 4 months in a row of "contraction" in the global economy based on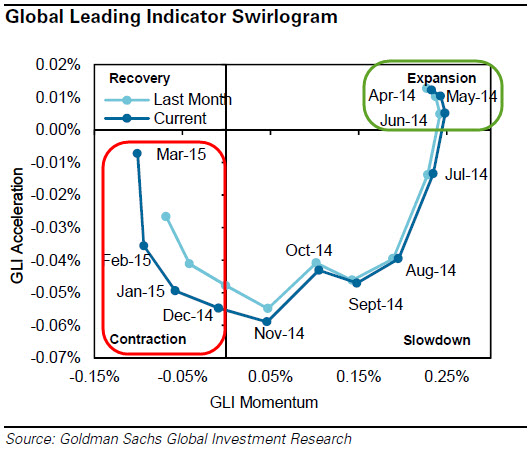 Headline down, Momentum down
The March Final GLI came in at 1.2%yoy, down relative to the February reading. Momentum came in at -0.10%mom, down slightly from last month's (now-revised) reading of -0.09%mom. We currently estimate that since December, GLI growth has been negative and in decline, which defines the 'Contraction' phase.
March Components Mixed
Six of the ten underlying components of the GLI deteriorated in March. Global PMI and the AUD & CAD TWI aggregate came in softer for a fifth consecutive month. Korean exports and the Japan Inventory/Sales Ratio also worsened this month, and Global New Orders Less Inventories and the S&P GSCI Industrial Metals Index® also came in softer in March, continuing declines since December. On the positive side, US Initial Jobless Claims, the Consumer Confidence Aggregate, the volatile Baltic Dry Index and the Belgian and Netherlands Manufacturing Survey all bounced back in March after worsening in February.
Charts: Goldman and Bloomberg