The Pentagon has released information about a Chinese jet executing an unsafe maneuver close to an American aircraft over the Yellow Sea. The development comes in the wake of growing tensions between China and the United States and President Xi Jinping's visit to the United States. This latest incident has once again raised doubts about the possibility of China and the United States achieving cooperative, non-competitive relations.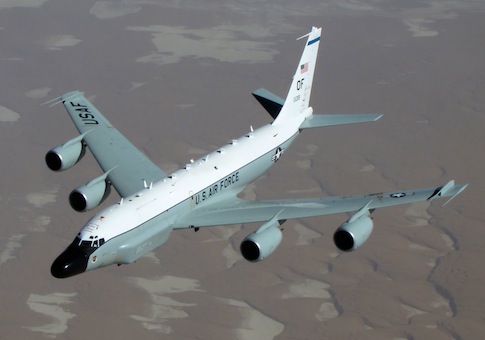 From the diplomatic perspective, this incident could not have come at a less opportune moment given that President Xi Jinping is currently visiting the United States and is scheduled to meet with his American counterpart, President Obama, on Friday. China and the United States are to discuss- and possibly design agreements on- issues of concern to both countries such as security, cyber warfare, trade, economics and human trafficking.
Chinese Jet Performs "Dangerous Intercept"
A spokesperson for the Pentagon, Peter Cook, has shared that the American RC-135 reconnaissance plane was flying over the Yellow Sea when a Chinese fighter plane intercepted it. The incident is reported to have occurred on September 15, 2015, 80 miles east of the Shandong Peninsula.
Mr. Cook has confirmed that there is no cause to believe that a collision was imminent, sharing that the crew onboard the United States aircraft contacted authorities only to inform that a procedure executed by the Chinese craft seemed potentially dangerous.
The Pentagon's announcement comes on the same day that President Xi Jinping arrived in the United States. President Jinping's first stop is Seattle and political analysts and officials are now waiting to see how this most recent military exchange between China and the U.S. will affect the remainder of the visit.
The Depart of Justice is currently analyzing the incident in an attempt to verify whether the maneuver performed by the Chinese plane was a deliberate attempt at intimidation or a routine process. As per a report carried by Reuters, as yet there are no signs to indicate that the intercept was meant to be confrontational.
In his statement, Mr. Cook has shared that "One of the maneuvers conducted by the Chinese aircraft during this intercept was perceived as unsafe by the RC-135 air crew and at this point, right now, there's no indication this was a near collision, but the report that came back was that the plane operated in an unsafe fashion."
Elaborating on initial reportage, The Wall Street Journal has stated that two Chinese aircrafts were involved in the incident, and not one. As per the report, two JH-7 planes are said to have flown in a radius of less that 500 feet of the American jet. Details regarding the number of Chinese jets involved in the intercept are...
More