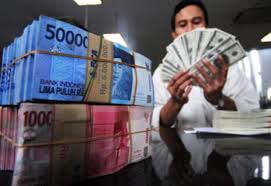 Nilai tukar rupiah diproyeksikan kembali bergerak dalam rentang tipis cenderung konsolidatif pascapidato Gubernur The Federal Reserve, Janet Yellen, di Amerika Serikat. Pergerakan mata uang di negara-negara Asia menjadi sentimen bagi rupiah hari ini. 
Dalam pidatonya, Yellen masih berkomitmen untuk memandu laju tapering. Seperti Bernanke, Yellen terus mengatakan bahwa data ekonomi, terutama penyerapan tenaga kerja, akan menjadi acuan utama the Fed. 
Selepas pernyataan Yellen, euforia mendorong penguatan pasar saham tetapi yield US Treasury justru naik ke 2,725 persen. Kemarin para pelaku pasar kembali menahan diri mentransaksikan rupiah seiring antisipasi terhadap pidato perdana Jennet Yellen sebagai Gubernur The Fed. 
Di sisi lain, rilis kenaikan house price secara tahunan Australia berimbas pada naiknya nilai tukar dollar Australia.  Begitu pun dengan poundsterling yang juga menguat seiring rilis penjualan ritel Inggris yang menunjukkan akselerasi. 
 "Hari ini pasar Asia menunggu neraca perdagangan China yang diperkirakan memburuk. Optimisme dari pasar saham AS akan menular tetapi data China bisa mengganggu," kata ekonom Samuel Sekuritas Indonesia, Rangga Cipta.  
Ia memroyeksikan optimisme masih ada tetapi laju penguatan rupiah akan berkurang. Kurs rupiah NDF satu bulan menguat bersama-sama dengan mata uang lain di Asia sore kemarin. JISDOR masih di tahan di atas Rp 12.100 per dollar AS menjelang BI rate besok. Tidak ada pengetatan berarti di pasar keuangan melihat JIBOR ON yang bertahan di 5,88 persen. 
kredit: financeroll.co.id