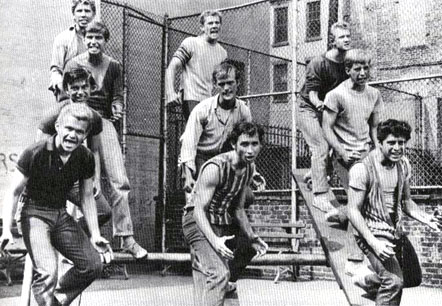 Republicans gearing up to battle for the federal budget (IMAGE c MGM)
The fight it is a-looming. It's coming, surefire as the morning sunrise and rivers flowing downhill.
President Obama sent his new budget to congress and there is little doubt that much of it is going to be subject to the throwing of hand-grenades, sword and spear jousting, cannon fire and the standard schoolyard gangfight with chains and zip guns. 
One area in particular where the president is expected to encounter a vast amount of resistance is in the proposals in the area of education. The president has proposed--among other things-- free community college for some students, streamlining higher education tax breaks and a bonus grant program to reward colleges that graduate large numbers of low-income students. 
The budget contained more details on the "free community college" proposal. We learned that the mechanics would be thus: the $60.3 Billion dollar plan money would be available to students who maintain a grade point average of at least 2.5 and have an adjusted gross income of $200,000.
The administration has also, for the first time, proposed scaling back federal money to for-profit colleges.This would ideally work by the government including benefits to veterans and service members as part of the 90 percent cap on the share of for-profit colleges revenue that comes from federal taxpayers. The cap as it currently stands includes Pell Grants and student loans. The way the cap is written at present gives for profit colleges a very strong incentive (so say critics) to recruit service members and veterans, and results in some heavy recruitment tactics.
Similar overhauls in the 90/10 rule have been attempted by Dems, but they always fell short in the face of Republican opposition.
There is undoubtedly going to be moans and groans coming from the Republican corner of both houses--the majority of both, of course--screaming "Socialism" over such government incentives. But with the cost of education skyrocketing to the degree that even middle class students are hamstrung by college debt and student loans--to the degree that they are killing their credit reports-- and surviving on credit card cash advances while paying the lions share of their income to pay student loans, such a program is truly necessary.
I have no doubt that with the huge number of American middle skill jobs that vanished in the wake of 2008, with no replacement, a program like the community college proposal would be a good shot in the arm for Americans--it's too bad that it will more than likely fail to find passage in congress vis a vis Republicans with any resemblance to its current form in the budget proposal.
Sad. Progress to maintain a status quo of decency in American Life should not require such tremendous stress and strain. 
Easy to rip Americans off with fake herbal supplements. Well near impossible to get them somewhat decent community level education to make sure they have decent work and avoid homelessness.
What's wrong with this picture? 
Preston Clive
2/3/2015***