Eastman Chemical Company EMN announced plans to increase the price of specific products The company will raise the prices of isopthalic acid by 6 cents per pound in North and Latin America while prices of acetic anhydride will increase by 3 cents in these regions.
The company noted that it is raising the prices of isopthalic acid owing to higher market demand and operating costs, especially in raw materials.
Eastman Chemical has modestly outperformed the Zacks categorized Chemicals-Diversified industry over the last three months. The company's shares have gained around 6.8% over this period compared with roughly 6.4% gain recorded by the industry.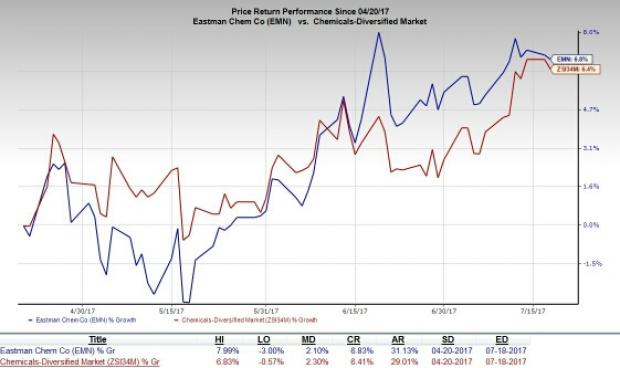 The company expects to drive growth on the back of innovation and high margin products amid uncertain global business environment. It believes that disciplined capital allocation and aggressive cost management policies should contribute to earnings growth and offset challenges in the Fibers segment. In 2017, the company expects adjusted earnings per share to grow 8–12%.
Earnings for its Advanced Materials unit in the first quarter increased owing to strong sales volume growth, better product mix of premium products and fixed cost leverage that more than offset higher raw material energy costs and modestly lower selling prices. Also, the company witnessed an increase in operating margin in the quarter amid an environment of raw materials inflation and unfavorable currency.
The Additives & Functional Products segment witnessed modest increase in operating earnings in the quarter as improved sales volume was mostly offset by higher raw material and energy costs, lower selling prices and unfavorable currency.
The company intends to continue increasing prices beyond the second quarter in response to a spike in raw materials prices.
Eastman Chemical remains focused on cost cutting and productivity actions amid a challenging operating environment. Further, the company should gain from its strategic acquisitions and capacity expansion actions. Eastman Chemical also remains committed to reduce debt and boost shareholders return by leveraging healthy free cash flows.
Eastman Chemical Company Price and Consensus
Zacks Rank & Other Stocks to Consider
Eastman Chemical currently carries a Zacks Rank #2 (Buy).
Other top-ranked companies in the chemical space are Arkema S.A. ARKAY, Koninklijke DSM N.V. RDSMY and Hitachi Chemical Company, Ltd. HCHMY. All three stocks sport a Zacks Rank #1 (Strong Buy). You can see the complete list of today's Zacks Rank #1 stocks here.
Arkema has expected long-term earnings growth rate of 12.4%.
Koninklijke has expected long-term earnings growth rate of 7.7%.
Hitachi Chemical has expected long-term earnings growth rate of 5%.
Looking for Stocks with Skyrocketing Upside?
Zacks has just released a Special Report on the booming investment opportunities of legal marijuana.
Ignited by new referendums and legislation, this industry is expected to blast from an already robust $6.7 billion to $20.2 billion in 2021. Early investors stand to make a killing, but you have to be ready to act and know just where to look. See the pot trades we're targeting>>
Want the latest recommendations from Zacks Investment Research? Today, you can download 7 Best Stocks for the Next 30 Days.
Click to get this free report
Eastman Chemical Company (EMN): Free Stock Analysis Report
Arkema SA (ARKAY): Free Stock Analysis Report
Koninklijke DSM NV (RDSMY): Free Stock Analysis Report
HITACHI CHEMICL (HCHMY): Free Stock Analysis Report
To read this article on Zacks.com click here.
Zacks Investment Research