The Nasdaq has jumped 1.5% today hitting a high of 4,131.43.  Many internet and biotechnology stocks that were hit last week have bounced back to lead the index higher.  YELP is up a whopping 9%, TWTR is up over 4%, FB is up over 3%, AMZN up 2.5%, YHOO up 2%, and NFLX up almost 4%.  After a rough week for many Nasdaq stocks, analysts have gone and upgraded some of these stocks.  An example is Morgan Stanley upgrading both YELP and TWTR to overweight and equal-weight, respectively.  As a result CBOE's VIX, "fear index", is down 5%.
The S&P 500 shot up 14.5 points to 1893 in early trading, which is above its April 2nd record close and just less than 5 points away from the intraday record.  Leading the way is technology and materials stocks.  According to Thomson Reuters, 90% of first-quarter results have been reported by S&P 500 companies, 69% have beaten earnings estimates, and 53% have reported revenue above analyst expectations.
<!== INSTRUMENT %% %1440% ==!>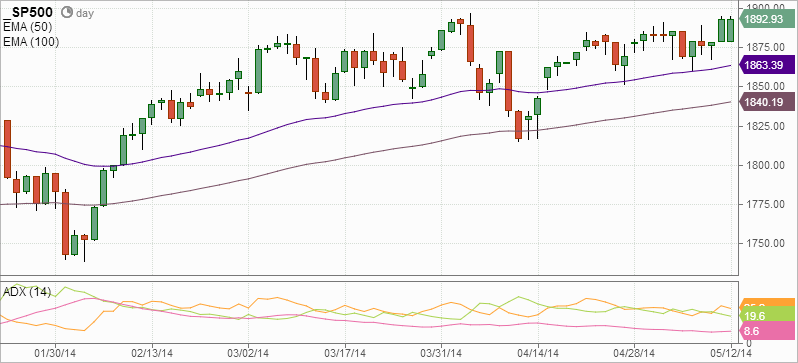 Dow Jones Industrial Average hit an intraday record of 16,695.18; up 0.7%.  Goldman Sachs is leading the way for the DJIA up 1.4% followed by United Technologies, Travelers, Boeing and IBM. 
We'll see if the rally can hold up through the afternoon and into Tuesday which has been far and away the best trading day for stocks this year.