Kroger's shares will reach $80 in medium term

9 march 2015
Kroger, an operator of the US largest chain of supermarkets and convenience stores, issued solid financial report for its fiscal 2014 fourth quarter. Total sales (including fuel center sales) grew 8.5% y-o-y to $25.2 bn matching consensus estimate. Identical supermarket sales (stores that are open without expansion or relocation for five full quarters) excluding fuel center sales, increased 6% to $20.2 bn. The acquisition of Harris Teeter also supported the top-line. Operating income jumped 27% y-o-y to $912 mn, whereas operating margin expanded 50 basis points to 3.6%. The company posted earnings of $1.04 per share that beat analysts' average forecast of 89 cents, and surged 33.3% y-o-y.
Kroger ended the quarter with cash of $268 mn and total debt of $11.7 bn. The company's trailing-twelve months' net total debt to adjusted EBITDA ratio was 2.15 compared with 2.43 in the prior-year period, and in the desired range of 2.00-2.20. Kroger's free cash flow generating ability allowed it to return over $1.6 bn to stakeholders via dividends and share repurchases in fiscal 2014. A quarterly dividend was 18.5 cents per share, with indicated dividend yield of 1%.
Kroger anticipates identical supermarket sales growth, excluding fuel, of approximately 3-4% for fiscal 2015. This range takes into account the expectation of lower inflation during the year. Adjusted earnings are expected in the range of $3.8-3.9 per diluted share, which is consistent with the company's long-term earnings per share growth goal of 8-11%
My outlook for Kroger remains optimistic as the company's customer-centric business model provides a strong value proposition to consumers. Kroger, I believe, is well positioned to continue its growth momentum primarily through identical supermarket sales growth. However, intensifying price war among grocery stores to lure budget-constrained consumers may adversely impact the company's sales and margins going forward.
With target price of $80, Kroger's shares look nice for medium-term investment, I think.
<!== INSTRUMENT %% %1440% ==!>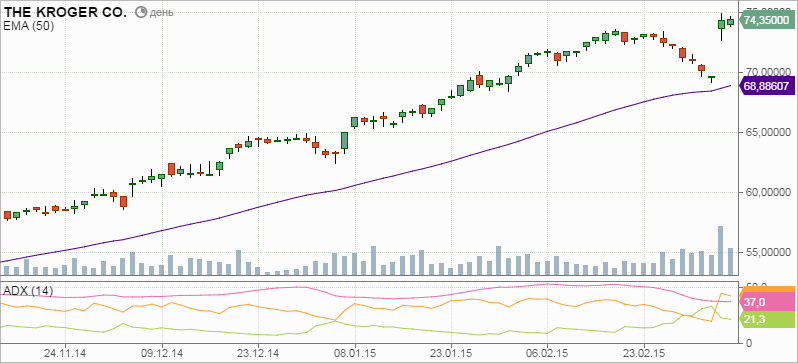 Voting is over
Waiting for


the right answer