The clock is ticking for SunEdison Inc.
The world's biggest clean-energy developer has already postponed the release of its 2015 annual report, twice. If SunEdison fails to file the report by March 30, it must reach accommodations with lenders on at least $1.4 billion in loans and credit facilities or face a potential technical default.
SunEdison reported total debt of $11.7 billion at the end of September, more than double the amount a year earlier, as it bought up wind and solar developers and projects on six continents. That's prompted questions about whether it borrowed too much, too fast, and has helped make it the worst-performer on the 104-member WilderHill New Energy Global Innovation Index in the past year.
"They have a big issue coming with their debt," Patrick Jobin, an analyst at Credit Suisse Group AG, said in an interview, citing two credit facilities that require the company to provide financial disclosures. Because that hasn't happened, it's unclear if SunEdison is able to meet its obligations, he said. "We're sitting here blindfolded. I don't even know what cash-generating assets they have left."
Ben Harborne, a SunEdison spokesman, declined to comment. The company said in a Jan. 7 presentation that it expected to have $619 million of cash on hand at the end of 2015. Of that amount, $563 million was committed to project development, and $56 million was available for general corporate use.
SunEdison's Debt Has Surged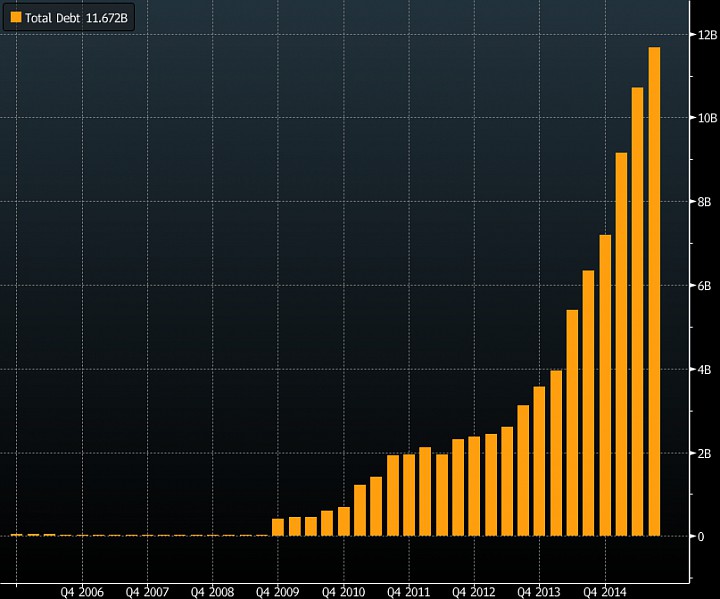 SunEdison took on a $725 million second-lien credit facility in January, with Barclays Plc, Deutsche Bank AG, KeyCorp and Macquarie Bank Ltd. as joint bookrunners. One of the terms requires the company to release an audited financial statement for 2015 within 90 days of the end of its...
More