Currency investors should consider selling EUR/JPY this week, advises Barclays Capital in its weekly FX pick to clients. The trade is macro-technical driven.
On the macro front behind this call, Barclays' rationale is as follows:
"We remain bearish on the EUR and see the risk from political events to be tilted to the downside....Developments surrounding Greece-EU negotiations remain the focus of the markets this week. Greece needs to secure near-term funding as the country faces EUR16bn of repayment needs this year as the EU-IMF program will expire at the end of February without further action... Against this background and amid elevated FX volatility, markets may need to brace for further uncertainty," Barclays clarifies.
"Successful negotiation between Greece and the EMU can result in two distinct outcomes, in our view. First, an agreement with significant concessions for Greece may raise the perception of risks in Spain, resulting in significantly greater downside risk for EUR. Second, agreement with little relief for austerity or debt should pose some short-term upside risk for EUR and potentially slow the EUR's descent in the coming months. A Greek exit from the euro area would be unambiguously negative for EUR initially as it would increase the apparent risks of EMU instability that would be difficult to dispel," Barclays adds.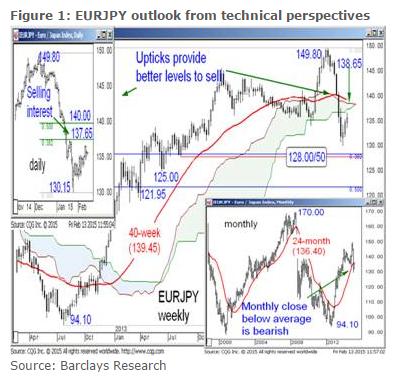 On the technical front, Barclays' rationale is as follows:
"We are bearish EURJPY and would use upticks as an opportunity to sell at better levels. Supply is expected to emerge in the 137.65 area where we would look for signs of a top and subsequent move lower towards the 130.15 lows. A break below 130.15 would encourage our bearish view towards greater targets near 128.00/50 and then lower to the 125.00 area. An unexpected break above 137.65 would point to a stronger than initially anticipated pullback towards layered resistance ahead of 140.00 before sellers return," Barclays projects.