Kroger's shares will hit a $40 mark within a month

2 october 2015
I remain bullish about the shares of Kroger, one of the US largest grocery retailers. The company's financials for its fiscal 2015 second quarter were solid. Revenues excluding fuel center sales rose 5.7% y-o-y on the back of identical supermarket sales of growth of 5.3%. The company now envisions identical supermarket sales (excluding fuel) growth of 4-5% for fiscal 2015, up from 3.5-4.5% projected previously. Operating income jumped 20.2%, and operating margin expanded 50 basis points. Earnings of 44 cents a share surpassed consensus estimate of 40 cents and surged 25.7% from the prior-year quarter. Kroger now projects fiscal 2015 earnings of $1.92-1.98 per share, up from a range of $1.90-1.95 forecasted earlier.
During the quarter, Kroger bought back 1.1 mn shares for an aggregate amount of $43 mn. The company's free cash flow generating ability has facilitated it to return over $1 bn to stakeholders via dividends and share repurchases in the last four quarters. Moreover, Kroger's trailing-twelve months' debt to adjusted EBITDA ratio declined to 2.02 from 2.32 in the prior-year period.
Kroger currently operates 2,623 supermarkets and multi-department stores in 34 states and the District of Columbia, and the company's dominant position among the nation's largest grocery retailers enables it to expand its store base and boost market share through product launches. The company's strong corporate and national brands have helped garner customers' loyalty. Moreover, Kroger's Customer 1st strategy enriches shopping experience, convincing buyers to return to the store. Given its strong identical store sales growth for about 47 straight quarters and better-than-expected bottom-line performance, we believe that Kroger is poised to achieve its long-term earnings per share growth rate target of 8-11%.
Kroger's shares, in my opinion, look nice for medium-term investment. Target price is $40. 
<!== INSTRUMENT %% %240% ==!>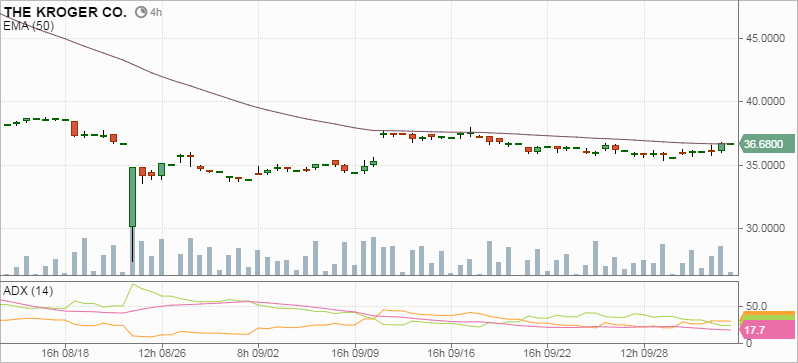 Voting is over
Waiting for


the right answer