Back in December 2001, Enron made history when it became the biggest for its time corporate bankruptcy in history, wiping out millions of shareholders after its market cap, until recently in the tens of billions, promptly hit zero following revelations of massive fraud, enabled by the now defunct auditor Arthur Anderson, and facilitated by the company's massively complex Special Purpose Entities which are summarized in Appendix D beginning on Page 372 of the infamous Enron whistleblower's book, and shown in the org chart below.
Fast forward to today, when another company was scrambling to prove to investors, skeptics, and regulators, that it is not merely a "biotech Enron" in sheep's clothing, when it released a 90-page presentation in which it summarily denied all allegations of fraud and wrongdoing, and whatever it could not decline, it merely punted to its lawyers or its outside counsel, even as it hinted at taking legal action against short-seller Citron, which revealed all its dirty laundry to the world and led to a 50% plunge in the stock price.
And yet, several press release denials, and one conference call later, few still understand what precisely is the relationship between Valeant and its various org charts.
So here, courtesy of Goldman, is a chart attempting to lay out all of Valeant's numerous, and convoluted, relationships with its specialty pharmacy networks. As more data emerges, expect more branches and entities to be added to the chart.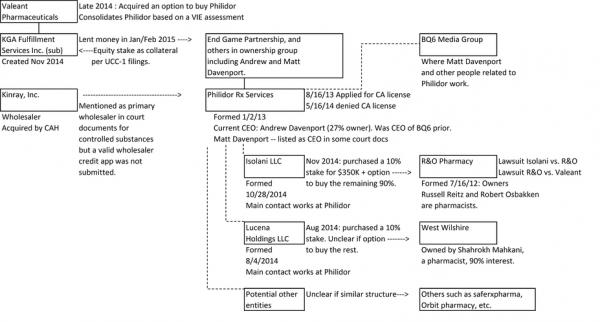 If the Valeant fiasco evaporates and the company is found to have done nothing wrong, this chart will be promptly forgotten. If, however, the government decides to crackdown on Valeant, and ends up wiping out the company, the above chart will be known as nothing less than the first draft of Valeant's "Enron" orgchart.