Today is definitely a day of tech stocks: all thee companies reporting today are extremely interesting - Broadcom, Ambarella and Verifone. Ambarella and Verifone will most likely be super volatile in after-hours trading, Broadcom is a huge company, it's more predictable than two others. 
Ambarella's stock dropped almost 10% after releasing their annual report in March, but the stock went up more than 9% after the most recent Q1 FY17 earnings call. It looks like the company's stock is always experiencing such significant fluctuations after the earnings. Ambarella is famous for it's partnership with GoPro, and actually GoPro used Ambarella's hardware in its cameras. Traders always think that Ambarella's business fully depends on GoPro, but it's true for just 35% - this is a portion of Ambarella's revenue which is contributed by GoPro. 
Analysts are positive regarding AMBA - 2 of them have a 'buy' recommendation, while 6 analysts iterated an 'outperform' recommendation and 5 said to 'hold' the stock. However, analysts are pretty much realistic regarding Ambarella's revenue this quarter estimating around 12% growth rate on q-o-q basis:

Source: Financial Times
Options chain says that traders are really active and there is no a particular trend. I think that the right strategy would be the same as we did for Palo Alto Networks here. So we are going to buy a straddle with $71.5 strike and sell two OTM call and put options to make our initial outlay as the following one: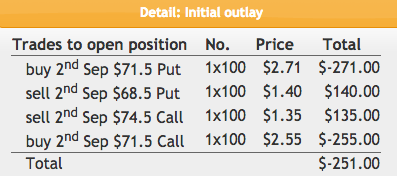 The initial cost of this strategy will be $251 as you can see from this initial outlay. Here the P&L table in dollar value:

As you can see, you maximum return would be $49 per 1 straddle, which means that you can earn up to 19.5% if the stocks moves up or down for more than 4%. According to previous earnings releases, the stock has all the chances to fluctuate more than 4% so the risk is really low here. I'll also review Verifone options, but it looks like we'll use the same strategy ahead of earnings.