Today we the Eurozone released manufacturing and services PMIs while the UK released retail sales data. Let's take a look at the data and how the EUR/GBP moved afterwards.

German Flash Manufacturing PMI (Nov.): 50.0; Forecast: 51.5; Previous: 51.4 (revised from 51.8)


(click to enlarge; source: forexfactory.com)
Eurozone Flash Manufacturing PMI (Nov.): 50.4; Forecast: 50.9; Previous 50.6
German Flash Services PMI (Nov.) 52.1; Forecast: 54.5; Previous: 54.4 (revised from 54.8)
Eurozone Flash Services PMI (Nov.): 51.3; Forecast: 52.3; Previous: 52.3

The market is likely most focused on the German Manufacturing PMI data, which was at the cusp of contraction in November. At 50, it is neither contracting nor expanding. 

UK Retail Sales m/m (October): 0.8%; Forecast: 0.4%; Previous: -0.4%
Retail sales grew faster than expected in October, driven by a strong pickup in furniture sales, reflecting earlier growth in the housing market. However, this is a volatile data set, and does not usually have any material impact on the GBP. In the short-term though it should help support the pound.

EUR/GBP's reaction was bearish after the releases. The 4H chart shows that the market fell earlier in the week after failing to reach 0.8040. There was a strong bearish engulfing candle then, and there is one today representing the reaction to the data sets. 

EUR/GBP 4H Chart 11/20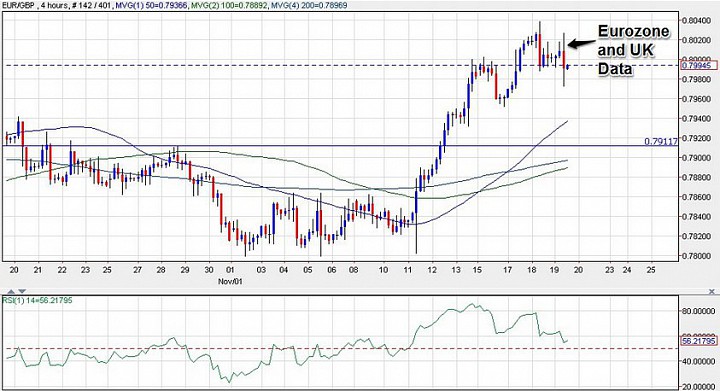 (click to enlarge)
The EUR/GBP looks poised to test the 0.7960 pivot in the near-term. When we look at the daily chart, we can see a slightly more aggressive bearish outlook.

EUR/GBP Daily Chart 11/20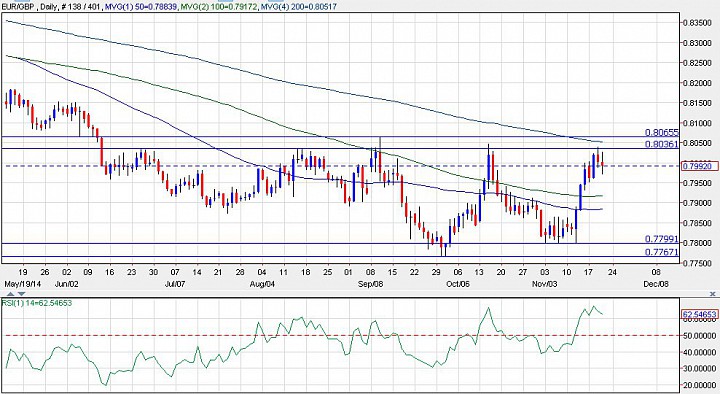 (click to enlarge)

First of all we can see that the EUR/GBP is retreating from a key multi-month resistance. The market has turned from bearish to neutral, but not bullish. A break above 0.8065 might start the bullish development. For now, we should respect the resistance area. The 0.79 level is a common pivot and middle of the range since October. If the market can hold above this level, a price bottom is likely to be forming. A break below 0.79 keeps the neutral-bearish mode, with emphasis on the bearish part. Thus, EUR/GBP's downside risk towards would be first towards this key decision area around 0.79.