Phoenix, AZ-based, Pinnacle West Capital Corporation PNW, together with its subsidiaries, provides electricity services in the state of Arizona.

Pinnacle West's continuous investment in traditional generation, transmission & distribution lines will boost its performance over the long run.

The gradual recovery in Arizona's economy, decline in unemployment rates and increasing housing permits will boost demand going forward. However, stringent regulations and fluctuations in commodity price remain the concern.

Estimate Trend & Surprise History

Investors should note that the third quarter Zacks Consensus Estimate for earnings of $2.33 per share has increased by 1.7% in the last 60 days.

Coming to the earnings surprise, Pinnacle West has surpassed the Zacks Consensus Estimate in two out of last four quarters, resulting in an average positive surprise is 15.47%.
Pinnacle West Capital Corporation Price and EPS Surprise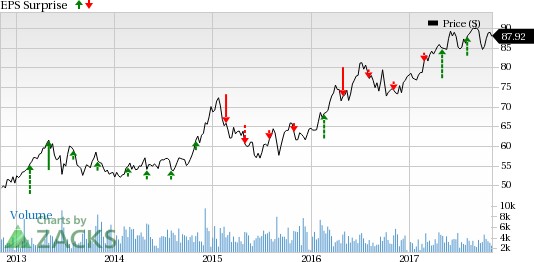 Pinnacle West Capital Corporation Price and EPS Surprise | Pinnacle West Capital Corporation Quote
Zacks Rank: Pinnacle West has a Zacks Rank #2 (Buy) but that could change following its third quarter 2017 earnings report which has just released. You can see the complete list of today's Zacks #1 Rank (Strong Buy) stocks here.
We have highlighted some of the key details from the just-released announcement below:

Earnings: Pinnacle West's third quarter earnings of $2.46 per share surpassed the Zacks Consensus Estimate of $2.33 by 5.6%.

Revenue: Pinnacle West's total revenue of $1,183.3 million reflected year-over-year growth of 1.4%.

Market Reaction: It would be interesting to see how the market reacts to the positive earnings surprise during the trading session today.

Check back later for our full write up on this PNW earnings report later.

Looking for Stocks with Skyrocketing Upside?

Zacks has just released a Special Report on the booming investment opportunities of legal marijuana.

Ignited by new referendums and legislation, this industry is expected to blast from an already robust $6.7 billion to $20.2 billion in 2021. Early investors stand to make a killing, but you have to be ready to act and know just where to look.

See the pot trades we're targeting>>

Want the latest recommendations from Zacks Investment Research? Today, you can download 7 Best Stocks for the Next 30 Days.
Click to get this free report
Pinnacle West Capital Corporation (PNW): Free Stock Analysis Report
To read this article on Zacks.com click here.